ATTALEA MARIPA - MARIPA.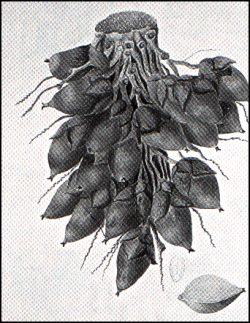 Synonym
Maximiliana maripa, Attalea regia, Attalea venatorum, Cocus venatorum.
Common name
Maripa, Cucurite palm, Kokerit-palm, anaja, cocorite, American oil palm.
Family
Aracaceae (Palmae).

Overview
A solitary palm growing on the periphery of the white-sand savanna in Surinam.
It grows up to 55' tall.
The large inflorescence is interfoliar.
The fruit is oblong avoid and cream-yellow of color and edible.
Maripa is grown for its oil, and is currently being investigated for use in biodiesel production.

Hardiness
USDA zone 9B - 11.
Propagation
Seeds.
Culture
Full sun, sandy loam soil; needs high humidity.
Plant in frost free locations.