RUELLIA TUBEROSA L. - MINNIEROOT.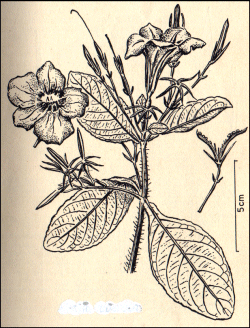 Synonym
Ruellia clandestina
Common name
Waterkanon, watrakanu, minnieroot, iron root, feverroot, popping pod, trai-no, toi ting, ipeca batard, bluebell, cracker plant, no.
Family
Acanthaceae (Acanthus family).

Overview
Minnieroot is a tropical perennial with a hairy stem, growing up to a height of 6½".
The simple leaves are opposite and elliptic; the stem is 4 sided. The plant only flowers after the start of the rainy season.
It has thick finger-like roots.
The big bisexual flowers (2) are violet.
The ripe fruits, in a pod with 7 - 8 seeds each, burst open with a bang, when they get wet and the black seeds are hurdled away.

Suriname's Traditional Medicine
It is used as an anthelmintic, against joint pains and strained muscles; bladder diseases.
Also used as an abortifacient, The root is used against kidney diseases and for whooping cough. An infusion is used for cleansing the blood.
The root and leaf for alleviating retention of urine.
The leaves contain apigenin and luteolin while the seed oil yield myristic, capril and lauric acids.

Hardiness
USDA zone 9 - 11.
Propagation
Seeds and cuttings.
Culture
Full sun / light shade, well drained soil.
It can be grown as an annual up to zone 6.