MONTRICHARDIA ARBORESCENS - MOCOU MOCOU.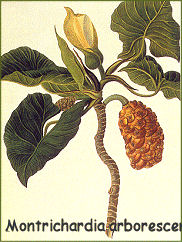 Synonym
Montrichardia linifera.
Common name
Mocou mocou, moco moco, moko moko, mokumoku, malanga-gratter, arracacho, Yautia-madera, Arum lily.
Family
Araceae (Arum family).

Overview
A tropical plant with a maximum height of 9', growing along the banks of rivers, creeks and in swamps; they grow in
salt -, brackish - and fresh water.
The stem sometimes has prickles and is somewhat swollen at the base.
Mocou mocou can abundantly be found in estuaries.
The leaves are arrow-shaped, up to 2.5 feet long and the food of choice for manatees.
The fruiting spadix of moko moko is edible; the seeds can be cooked or toasted.
Each inflorescence contains ± 80 seeds.

Suriname's traditional medicine
The milky juice of the stem is used in the treatment of deep cuts (external); also against nose bleeding.

Hardiness
USDA zone 9B - 11.
Propagation
Seeds and rhizome.
Due to recalcitrant nature of the seeds, they have a short viable life, can not be dried well and can not withstand low temperatures.
Culture
Full sun / part shade, all types of soil.
Needs lots of water but has some drought tolerance.
Recalcitrant seeds are not refundable since they are prone to fungus and often difficult to germinate.