TRIPLARIS SURINAMENSIS - ANTWOOD.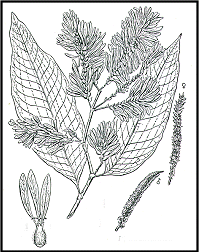 Synonym: cumingiana Americana, triplaris weigeltiana.
Common name: vara de Maria, palo hormiguero, pau formiga, long John, mira udu, mulato-tree, tangarana.
Family: Polygonaceae (Buckwheat family).

Overview
Mulato tree is a deciduous tropical tree growing up to more than one hundred feet tall.
It's called long John because it is a very slender and graceful tree!
The trunk is straight and slightly cracked. The thick, hollow branches are divided in segments. Ants often eat the center of this tree.
The small white, male and female flowers are in big compound clusters.
The brown seeds, small square nuts, have wings. When the seeds of this tree fall they look like many small helicopters gyrating to earth. They can be carried away by the wind for many miles before reaching the ground.
In Suriname it's also called "dreitin" which reminds one that when it blooms, the dry season is about to start.
Triplaris Surinamensis is used in Shamanism to prepare Ayahuasca (both a medicinal tradition specific to the Amazonas and a shamanic medicinal brews).

Hardiness: USDA zone 9B - 11.
Propagation: seeds.
Culture: full sun, sandy loam, well drained soil, tolerance for some drought.
Plant in frost free areas.