HIPPEASTRUM STRIATUM - BARBADOS LILY
Common name (s)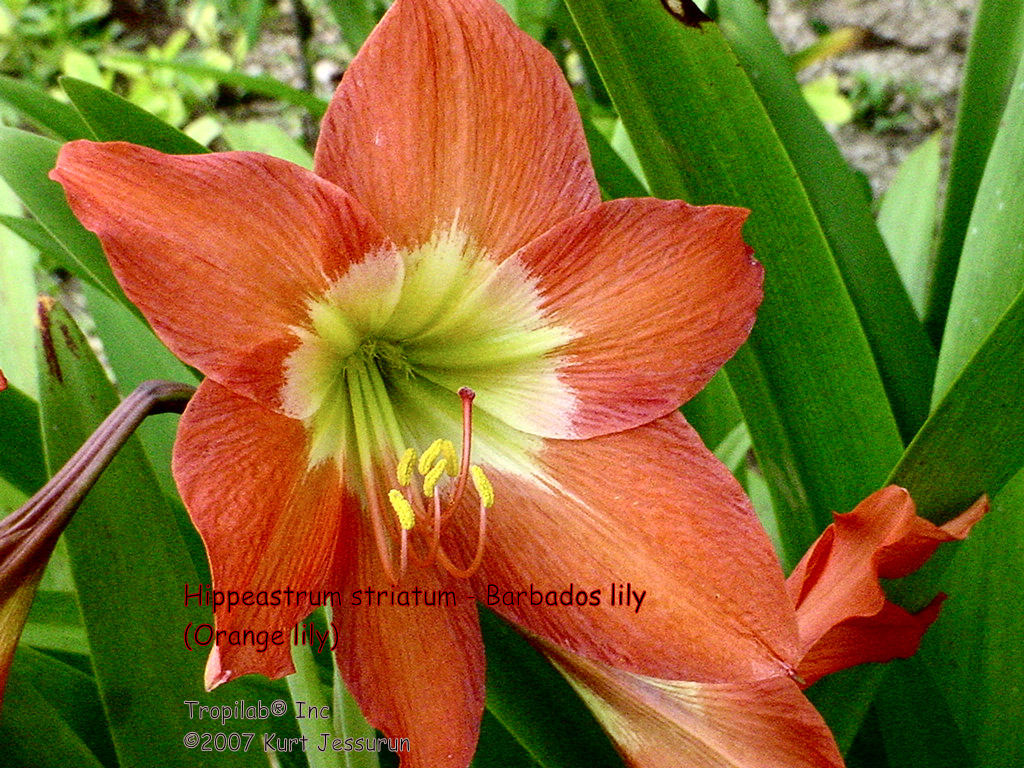 Lis rouge, Barbados lily, Easter lily, Orange lily, Amaryllis, Belladonna lily, Cape belladonna, Lirio, Naked lady lily, Pink lady, Resurrection lily, Fire lily, Giant amaryllis, Royal Dutch amaryllis.

Family
Amaryllidaceae (Lily family).

Overview
The genus Hippeastrum encompasses 75 species; they are referred to as Amaryllis. Most are from tropical South America and are hybrids.
A beautiful exotic perennial bulbous plant; growing all year around in the (sub)-tropics, indoors and in the glass house.
It produces 3 to 6 glossy strap-like leaves.
The blooms come from two on a stem; it last 4 - 7 days; the flowers are trumpet shaped.
The Barbados lily is attractive to bees and butterflies; the flowers are fragrant.
The bulb has medicinal properties and is used against asthma, bronchitis, constipation and respiratory diseases. It contains the phytochemicals Galanthamine and Lycorine.
In India, fresh bulbs are used for the healing of wounds; against tumors and piles.

Hardiness
USDA zone 8 - 11

Propagation
Dividing bulbs (including offsets)
Seed is not available.

Culture
It needs full sun to 30%; protect from low temperature; flowers after 06 - 12 months and blooms repeatedly.
It can be kept indoors in a large container, outdoors or in the green house and blooms every February.
It needs well drained, sandy loose soil.
This plant can also be also used for landscaping.

Please note that these bulbs are solely for germination purposes.