ASTROCARYUM PARAMACA - PARAMACA.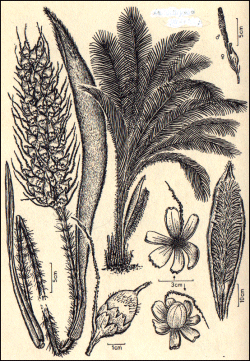 Common name
Paramaca
Family
Arecaceae (Palmae)

Overview
Paramaca is a palm indigenous to Surinam.
A monoecious, heavily armed plant, this palm has no trunk; the thorns in the lower parts are winged.
The inflorescence, which is surrounded by a hairy, brown sheath with needle-like thorns, has the male flowers at the upper - and the female flowers at the lower side.
The fruits are brown, oblong - ellipsoid; the mesocarp is bright yellow while the endocarp is black.
The dry outside of the fruit burst open like a star, exposing the black stone-like seed.

Hardiness
USDA zone 9B - 11.
Propagation
Seeds.
Culture
Partial shade, sandy loam soil; needs high humidity.
Plant in frost free locations.