HELICONIA PSITTACORUM - PARROT'S BEAK.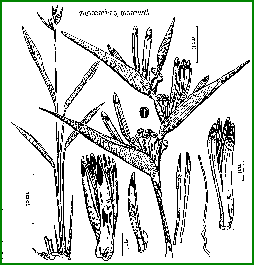 Common name
Parakeetflower, parrot's beak, parrot's flower, parrot's plant, parrot's tongue, popokaytongo.
Family
Heliconiaceae (Heliconia family).

Overview
A small herbaceous upright small Heliconia, indigenous to the Amazon rainforest and growing up to no more than four feet tall.
The parrot's beaks are exotic, abundantly bloomers all year long.
The orange - red bracts arise from a central point on the stem.
The long pointed leaves are shiny green with a red edge.
The flowers have ¾ to 1 inch long peduncles that rise above the pointed bracts.
The orange - red flower bracts have a dark spot at the end.
Parrot's tongues are pollinated in Suriname by hummingbirds.
The Psittacorums are very suitable for cut flower arrangements.
They will last from one to three weeks in water.

Hardiness
USDA zone 9 - 11.
Propagation
Rhizomes and seeds.
Culture
Sun / light shade.
Protects from frost; damage below 40° F.
Needs lot of water but the soil should be well drained, rich and moist soil is needed as well, high humidity.
Plant in frost free spots or areas; can also be planted in the greenhouse.
Optimum temperature range is 60° - 78° F.
Psittacorum are, to some degree, winter hardy.