PISTACIA VERA L. - PISTAH.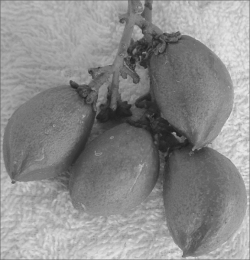 Common name
Pistachio, pistah, pista, pistache nut.
Family
Pistaciaceae.(Anacardiaceae)



Overview
Pistah is a deciduous tree; although originally not from Suriname, grows well in this country.
Pistachio grows up to a height of 30"; it has pinnate leaves and avoid fruits.
The nut has a woody shell with the tendency to partially split when ripe.
The edible internal kernel is salted and roasted.

Medicinal applications
The kernels are considered digestive and sedative.

Hardiness
USDA zone 7B - 11.
Propagation
Seeds.
Due to recalcitrant nature of the seeds, they have a short viable life, can not be dried well and can not withstand low temperatures.
Culture
Full sun, well drained soil but grows also well on poor - and dry soils.
Plant in frost free areas.
Recalcitrant seeds are not refundable since they are prone to fungus and often difficult to germinate.