RICINUS COMMUNIS L. - CASTOR BEAN.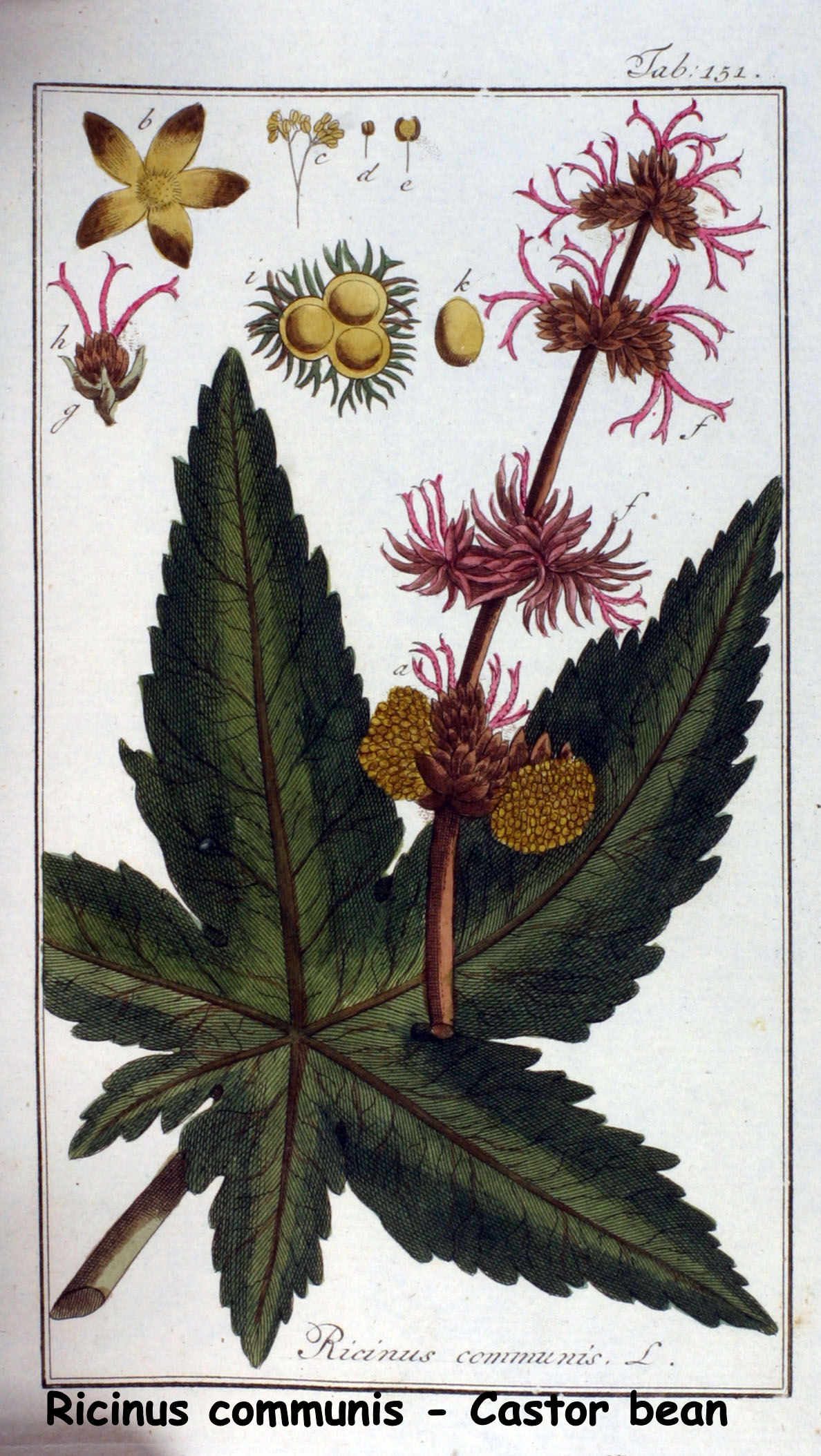 Common name
Castor bean, castor oil plant, palma christi, ricin, wonder tree, krapata, djarak, reer.
Family
Euphorbiaceae (Spurge family)

Overview.
The Castor bean plant, an erect, tropical shrub or small tree, grows up to 30 feet tall.
As an annual in the cooler zones, it grows up to 15' tall.
It is a very fast growing plant. The joints of the hollow stem, stalks and leaves are reddish to purple.
The 6 - 11 lobed, palmate leaves with uneven serrated edge are also red or colored and often have a blue-gray bloom.
There is also a green variety.
In Suriname it grows as a common weed often in colonies, in the coastal region.
The flat seeds are in a seedpod that explodes when ripen.
All the top of the stem and stalks are the inflorescence with the male - and female flowers.
The oblong fruit turns brown when ripe.
In each seed pod (a capsule) there are three seeds.
The seeds of castor bean or castor oil plant are very poisonous to people, animals and insects; just one milligram of ricin (one of the main toxic proteins in the plant) can kill an adult.
It acts by inhibiting protein synthesis.
The seed is only toxic as the outer shell is broken or chewed open. Due to the above, the seeds should be kept away from small children.
The castor oil is extracted from the beans, which is used for medicinal purposes.
Commercially prepared castor oil contains none of the toxin.

Suriname's traditional medicine
The juice from the leaves resolved in water is used against rheumatism, headache, dropsy (edema) and abscesses, ringworms and warts.

Hardiness
USDA zone 2 - 7 as a annual and 8 - 11 as a perennial.
Propagation
Seeds and cuttings.
Due to recalcitrant nature of the seeds, they have a short viable life, can not be dried well and can not withstand low temperatures.
Culture
Sun expose: full sun; very easy to grown, outdoors as a tender perennial, annual in the cooler zones.
Grow indoors in a large container.
It is grown as an ornamental in gardens, sometimes as a house plant.
It can be grown in place in zone: 8 - 11.
In zones with shorter growing seasons, - 7 (lower than seven) start sowing indoors at 8 (eight) weeks before last expected frost.