Overview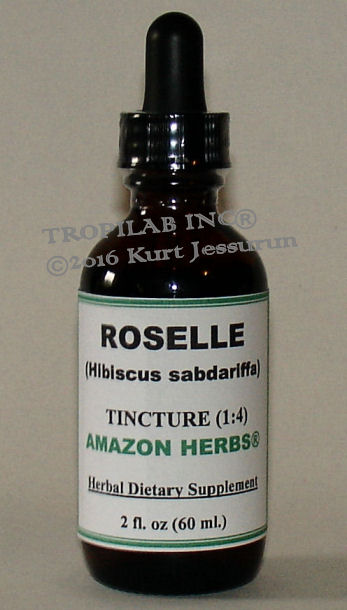 Roselle (Hibiscus) has been shown to relax the uterus. It has also been used for indigestion (control of diarrhea), loss of appetite, as well as for colds, respiratory problems and circulation disorders. Roselle has antibacterial and anti-oxidant properties; lowers the blood pressure (hypotensive effect). It lowers both systolic and diastolic blood pressure.
It has also the reputation for being a mild natural diuretic.

Roselle significantly reduces the cholesterol content in blood serum and prevents oxidation of low-density lipoproteins.
It can suppress blood lipid levels, including triglycerides and total cholesterol, significantly.


Phyto-chemicals

Roselle contains 49 calories, 84.5% H2O, 1.9g protein, 0.1g fat, 12.3g total carbohydrate, 2.3g fiber, 1.2g ash, 1.72mg Ca, 57mg P, 2.9mg Fe, 300?g ? Carotene equivalent, and 14mg ascorbic acid. Oxalic, malic, citric, stearic, and tartaric acids, 15% to 28% of hibiscus acid (lactone of hydroxycitric acid).
Presence of saponins, tannins, cyanogenic glycoside. Other phytochemicals are protocatechuric acid, flavonoid glycosides (delphinidin and anthocyanins). Hibiscus flowers contain, among others, polyphenols, including anthocyanins, proanthocyanidins, flavonols.


Pharmacology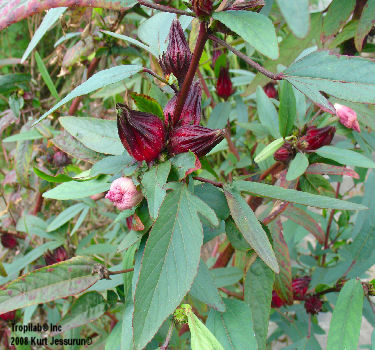 Extract of Roselle (Hibiscus) inhibits serum lipids and shows an antiatherosclerotic activity (prevents or counteracts atherosclerosis). It also have shown other properties in the test tube and in animal studies, such as reducing skin cancer promoted by ultraviolet light and inhibiting herpes simplex virus. Also several studies have looked at the potential use of hibiscus for male and female fertility.

In other studies, it was found that Roselle tea has a substantial antihypertensive effect, attributable to the flower's ACE-inhibiting anthocyanin content, and the possibility of a diuretic effect. One study found that Roselle conferred an antihypertensive effect comparable to 50 mg/day of the prescription drug Captopril.
Also found it to be less effective thann Lisinopril (an ACE inhibitor); the experimental treatment showed therapeutic effectiveness of 65.12%, but it showed 100% tolerability (absence of intense side effects) and safety.

In vitro studies have shown that Hibiscus sabdariffa L, an ingredient of many herbal tea blends and other beverages, has antioxidant properties. In animal models, extracts of hibiscus calyces possess hypocholesterolemic and anti-hypertensive properties.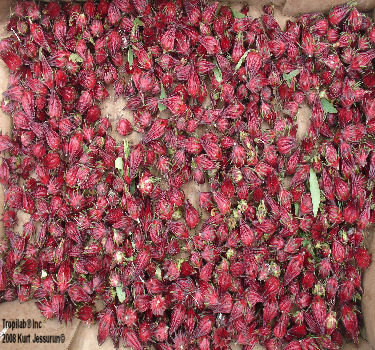 Probably it acts to lower blood pressure through being an ACE inhibitor (lowers the activity of the enzyme ACE). Roselle also significantly reduced plasma ACE activity and demonstrated a tendency to reduce serum sodium (Na) concentrations without modifying potassium (K) levels.
Roselle may be as potent as the synthetic drug Captopril (Capoten) in this regard. It is also antispasmodic (decreases spasms in the stomach, intestines, and uterus) and work like antibiotics to kill bacteria and worms (anthelmic).

Roselle is potentially applicable to prevent atherosclerosis in humans due its anti-hyper-lipidemic effect and anti-LDL oxidation.
It may therefore be useful in the prevention of a number of cardiovascular diseases in which cholesterol plays a major role.

A study in mice found that Hibiscus sabdariffa can prevent liver damage caused by acetaminophen (paracetamol), the active ingredient in Tylenol and a number of other pain-killers, which is known to cause serious liver damage in high enough doses.


Dosage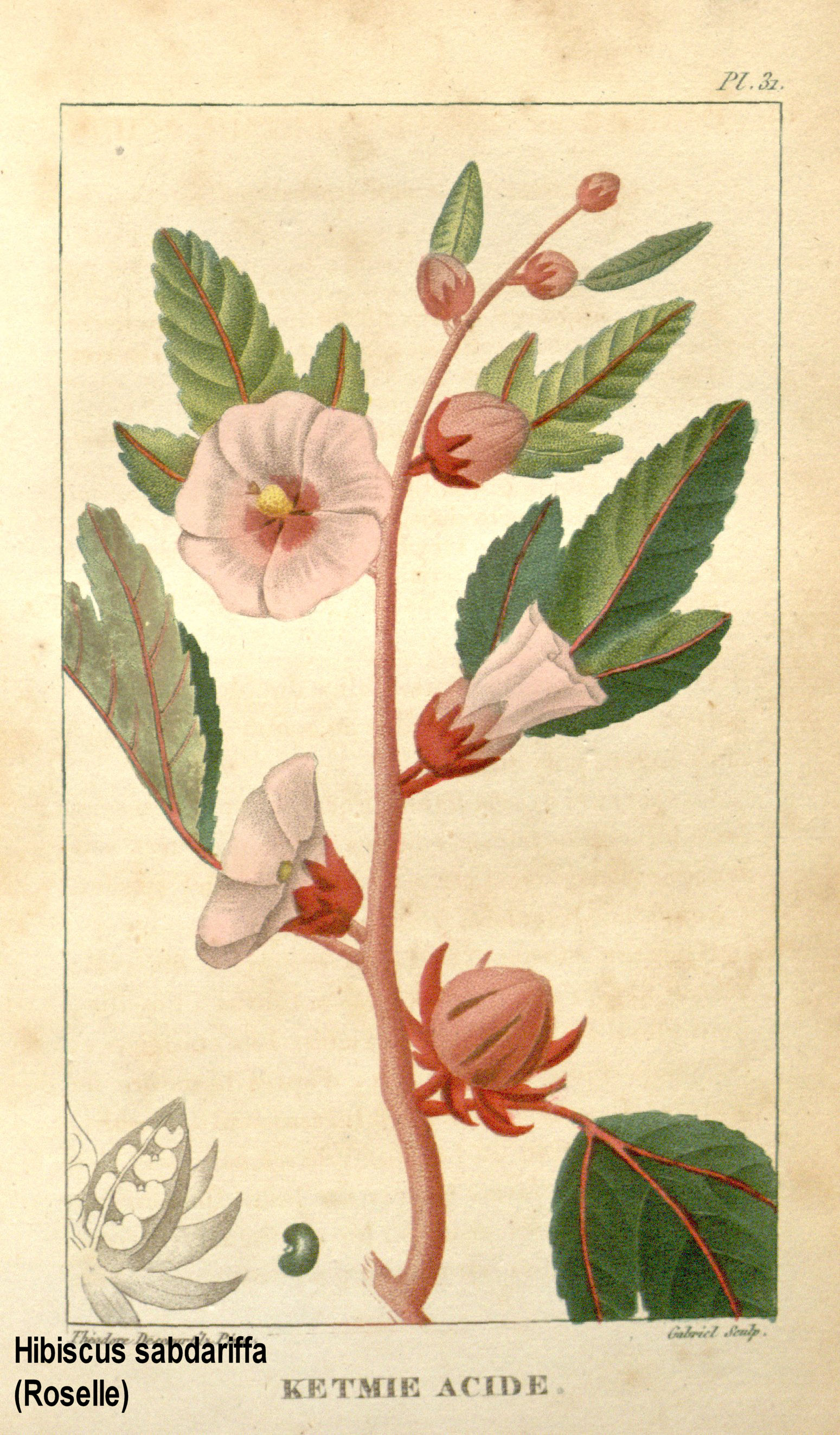 Tincture: 1 - 3 ml, daily (1 - 3 full droppers)

Infusion (herbal tea): 1 - 2 cups daily.
The tea is rich in red color and tart in taste. It is naturally caffeine free.


For more information on Roselle, go to the Roselle plant page.


Reference

Studies on the aqueous extract of Jamaica (Hibiscus sabdariffa) as a potent antioxidant
V. HUERTA-E¹, I. GARCIA², J. L. RODRIGUEZ³ and E URRUTIA
¹Facultad de Ing Química, Escuela de Ingenieria de Alimentos, Benemerita Universidad Autonoma de Puebla, 18 Sur & San Claudio, Ciudad Universitaria, Puebla, 72000, Mexico
²Instituto de Farmacia y Alimentos, Univ. de La Habana, La Coronela, La Lisa, Ciudad Habana, Cuba
³Instituto de Investigaciones de la Industria Alimentaria, IIIA, La Habana, Cuba.
Investigacion, Univ. Popular Autonoma del Estado de Puebla, 21 Sur 1103, Col. Santiago, Puebla, Pue, 72160, Mexico

Phytochemical, pharmacological and toxicological aspects of Hibiscus sabdariffa L.: a review
ALI BH, AL WABEL N, BLUNDEN G.
Department of Veterinary Medicine, Al-Gaseem University, Buraydah, Al Gaseem 81999, Saudi Arabia

The effects of sour tea (Hibiscus sabdariffa) on hypertension in patients with type II diabetes
MOZAFFARI-KHOSRAVI H, JALALI-KHANABADI BA, AFKHAMI-ARDEKANI M, FATEHI F, NOORI-SHADKAM M
J Hum Hypertens 23 (1): 48–54. doi:10.1038/jhh.2008.100. (January 2009).
PMID 18685605.

Hibiscus sabdariffa L. tea (tisane) lowers blood pressure in prehypertensive and mildly hypertensive adults.
DIANE L MCKAY, C-Y OLIVER CHEN, EDWARD SALTZMAN and JEFFREY B BLUMBERG
(February 2010). J. Nutr. 140 (2): 298–303. doi:10.3945/jn.109.115097.
PMID 20018807

Hibiscus Tea Reduces Blood Pressure
AHA 2008 (11 November 2008)
view article



The above presentation is for informational and educational purposes only.
It is based on scientific studies (human, animal, or in vitro), clinical experience, or traditional usage.
For many of the conditions discussed, treatment with prescribed (RX) or over - the - counter (OTC) medication is also available.
Consult your doctor, practitioner, and/or pharmacist for any health problem and before using dietary supplements or before making any changes in prescribed medications.