EUGENIA POLYANTHA - DAUN SALAM.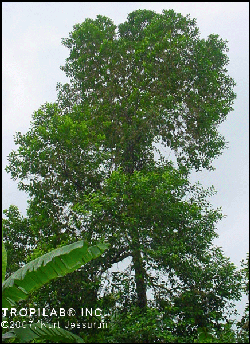 Synonym
Syzygium polyanthum.
Common name
Indonesian bay leaf, salam blad, daun salam manting, serah, kelat samak, Indonesische lorbeerblatt, proh hom, Indonesisk laurbaerblad, Laurier indonésien.
Family
Myrthaceae (Myrtle family).

Overview
Daun salam is a deciduous tropical tree with spreading branches and simple leaves, originally from Indonesia; it is also growing abundantly in Suriname.
Indonesian bay leaf can reach a height of 90 feet although 60 feet is more common.
The flowers are pink and somewhat fragrant while the fruits are round; red at first, later brown.
The seeds are small and brown.
The dried brown leaves of daun salam are aromatic and somewhat sour; used as a spice in the Indonesian - as well the Surinam cuisine; they are applied to meat.
The main phytochemicals in this plant are: eugenol, citral and methylchavicol.

Medicinal applications
For stomachache, diarrhea and against itchiness.

Hardiness
USDA zone 9B - 11.
Propagation
Seeds and cuttings.
Due to recalcitrant nature of the seeds, they have a short viable life, can not be dried well and can not withstand low temperatures.
Culture
Full sun, good drained soil.
Plant in frost free areas.
Recalcitrant seeds are not refundable since they are prone to fungus and often difficult to germinate.