WALTHERIA AMERICANA L. - SLEEPY MORNING.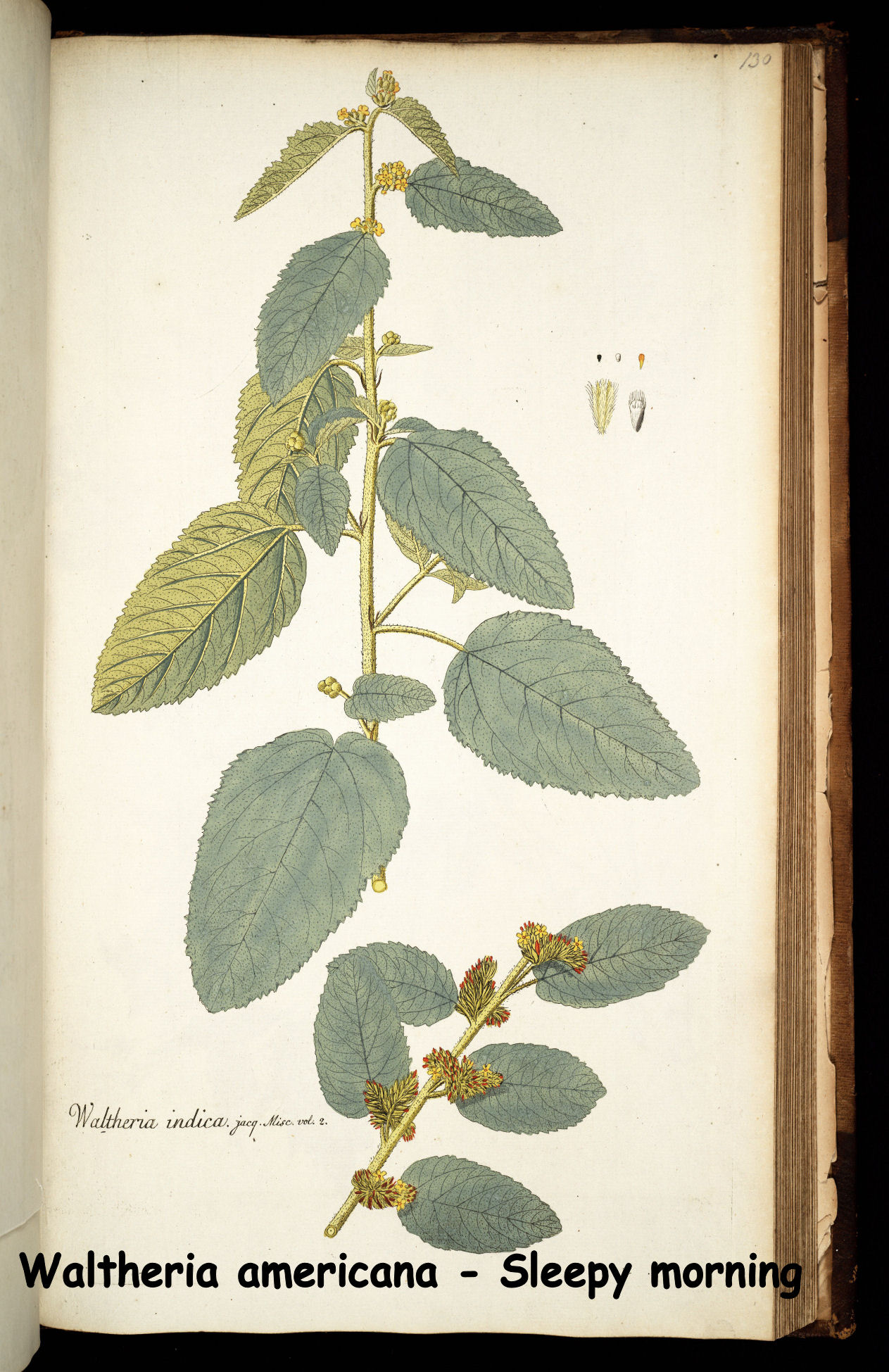 Synonyms
Waltheria indica, Waltheria elliptica.
Common name
Sleepy morning, uhaloa, hierba de soldado, guasimilla, uha-loa, velvet leaf, malvavisco, marsh-mallow, buff coat, leather coat, monkey bush, basora prieta, escobillo blanco, malvavisco, chamorro.
Family
Sterculiaceae (Cacao family).

Overview
Uhaloa is a common tropical weed in the savannas of Suriname. It grows up to 6 feet tall and the plant mostly branches near the ground.
The whole plant is tomentose hairy while the serrate alternate leaves are bright green; underneath gray.
These leaves have conspicuous veins.
The fragrant flowers, growing in dense clusters in leaf axils, are yellow. Leaves, flowers and buds are of premium quality and commercially used. The small seed capsules hold one shiny black seed each.

Medicinal applications
In Polynesia the root bark (cortex) is chewed upon for sore throat, while in Hawaii it is used internally for arthritis, neuralgia and chronic cases of asthma.
An infusion of stem and leaves is also used.
Used against the common cold, diarrhea, unwanted pregnancy, painful menstruation and fatigue.

For more information on Waltheria, go to the "MEDICINE FROM NATURE" page.


Pharmacology
There is a possible presence of tannins; the plant is antibacterial and vericidal.

Visit our CHOLESTEROL -, DIABETES - , HYPERTENSION - and TINCTURE pages.

Hardiness
USDA zone 9 B - 11.
Propagation
Seeds.
Culture
Full sun, grows well on poor soils; can withstand draught.
Plant in frost free spots or after the danger of frost has past.