; &nbspLiving With Diabetes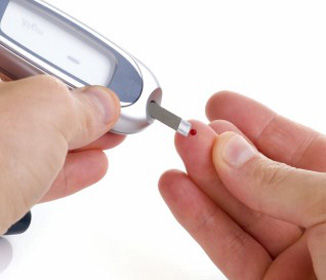 Diabetes is very often linked to 2 other diseases: hypertension and high cholesterol levels.
Keeping these 3 factors, blood glucose, blood pressure and cholesterol levels, within ranges is very important to reduce the risk for diabetes-related complications such as heart attacks, strokes and vascular diseases.

Diabetes should be managed on a daily basis
Check your blood sugar often
If you take insulin injections, do so at certain scheduled times in order to maintain proper levels of glucose.
A proper diet plays a very important role, whether you have Type 1 or Type 2.
Cut back on your sweeteners (sugar, grape concentrate, corn syrup, fructose, sucrose, lactose and
maltose) intake. Sugar increases LDL cholesterol and triglycerides.
Follow an exercise program approved by your physician.
Development of Type 2 diabetes can be prevented or at least, significantly delayed.
Type 2 can be regarded as a modern nutritional disease.

Modest changes in diet and exercise can, over time, substantially lower the risk of developing the disease.
Diabetes Is more a disease of nutrition than anything else!
Important is to listen to your "have enough" signal so that you do not bulk up with food you do not actually need.
Pay attention to nutrition and diet, watch the carbohydrate** (carb) intake and eat fruit and vegetables daily and go for whole grains! All foods that contain starches and/or sugars (fruits, vegetables, milk, breads, grains, beans included), contain carbs. A low-carbohydrate diet can work wonders.
There are fiber and non-fiber carbohydrates; fiber is good, non-fiber is bad. Fibrous carbs such vegetables are very good.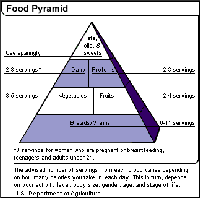 Since diabetes can be triggered by just 10 - 20 pound of excess weight, it is important to lower the body weight.
Being overweight does not cause IDDM but it does increase the need for more insulin.
This obesity epidemic has even led some children to develop type 2, which previously almost only adults got.
However; doctors are now seeing kids with double diabetes (both type 1 and 2).
Once more, it is important to limit the intake of sugar and foods that turn into sugar.

Your M.D. or other health provider may prescribe standard medication for diabetes such as:
Tolinase® (tolazamide), Orinase® (tolbutamide), Micronase® (glyuride), and Glucotrol® (glipizide).
Not being very effective, they do not adequately control blood sugar in a significant percentage of cases and even for those who respond well, the effects may wear off over time.

Glucophage® (metformin) is a very popular drug for diabetes, which improves insulin resistance but since it also reduces the levels of vitamin B12 and folic acid and increases homocysteine (an amino acid) levels, it may also increase the risk of heart disease.
The diabetes drug AVANDIA® (Rosiglitazone) has been linked to an elevated risk of heart attack and even worse!


Herbal Dietary Supplements


Effect of Dietary Supplements & Herbs from the Amazon rainforest on Diabetes

Certain herbal dietary supplements (botanicals) can be used as part of the diet to maintain healthy blood sugar levels.
Natural medicine cannot cure Type 1 diabetes but it may help by making the body more receptive to insulin injection.
It is very important to work closely with your physician who prescribes the insulin, before using any of these herbal supplements.
Changes that make the body more receptive to insulin could also require certain changes in the dosage that must be addressed by the medical professional.
When Type 2 diabetes is involved, the body often makes enough insulin; the body however has trouble absorbing it.
Type 2 reacts well to natural medicine but making diet change should also be discussed with the treating physician.
Patients with diabetes often have high blood pressure (hypertension).
With all the research going on in recent years it is clear that controlling blood pressure and cholesterol levels are just as important as doing this with blood sugar.
Visit our hypertension - and cholesterol page for more information on controlling blood pressure and cholesterol.



* Insulin: lslets of Lagerhans are groups of cells in the pancreas that produce hormones. They consist of Beta cells that produce insulin, Alpha cells that produce glucacon, Delta cells that produce somatostaton.

** Carbohydrates: the body's primary source of glucose; glucose is the cellular fuel. If the insulin production is insufficient or the body is resistant to insulin, consuming too many carbohydrates can cause blood glucose to rise sharply.




Medicinal Plant & Herbs against Diabetes

There are many tropical botanicals & herbs, that can be successfully employed against diabetes.


TREATING DIABETES WITH HERBAL DIETARY SUPPLEMENTS NATURALLY