SANSEVIERIA TRIFASCIATA - GOOD LUCK PLANT.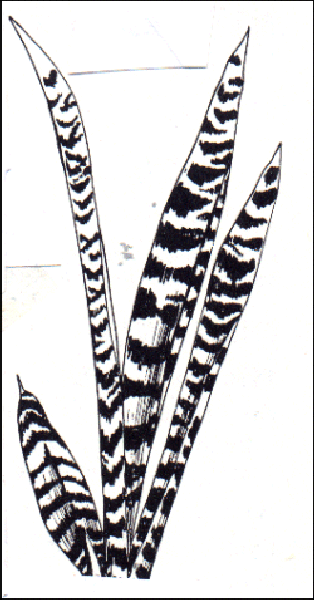 Synonym
Sansevieria zeylandica.
Common name
Good luck plant, mother-in-law's tongue, snake plant.
Family
Agavaceae (Dracaenaceae).

Overview
This herbaceous tropical perennial consist of erect, strap - like leaves up to 5' tall.
The foliage is stiff, succulent, mottled, blotched or lined; many shapes and sizes.
There are several varieties of the good luck plant such as S. trifasciata laurentii "compacta goldeana", S. trifasciata "Hahnii", S. trifasciata Golden Hahnii and S. arborescens.
The snake plant is often mottled dark green and cream with small white fragrant flowers.
It produces a berry as the fruit.

Surinames traditional medicine
The leaves are used to treat shingles (herpes zoster).
In Singapore and Indo-China the warm juice of S. trifasciata leaves is dropped into the ear as a treatment for earache; the juice of fresh leaves is used to treat pharyngitis and hoarseness.

Hardiness
USDA zone 9B - 11.
Propagation
Leaf cuttings, division.
Culture
Light shade, well drained soil; do not water too much.
Is tolerant of salt and saline soils.
It can withstand 28° F. for very brief periods.
Can also be kept as a potted household plant.