PIRATINERA GUIANENSIS - SNAKEWOOD.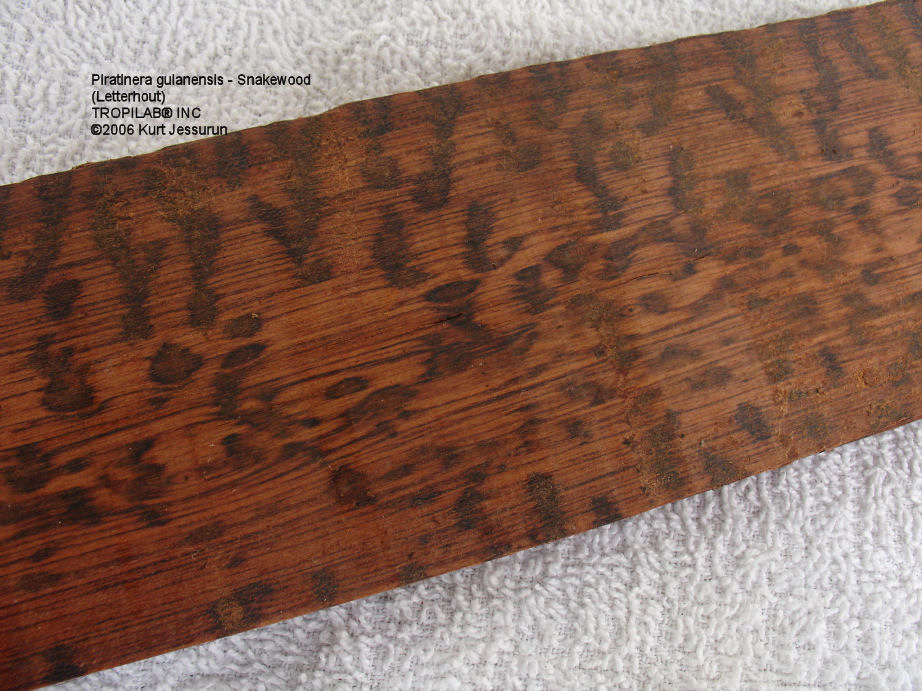 Synonym: Brosimum guianensis.
Family: Moraceae (Mulberry family).
Common name: serpent wood, pirantinier, cacique carey, bois de lettres, snakewood, letterhout, letterwood, sneki udu, leopardwood, schlangenholz, bois serpent, gateado, palo de oro, amourette wood, Bois d' amourette, Muira penima, Tibicusi, speckled wood.

Extremely rare; a small unbuttressed tree (up to 70' high), with diameters from 3" - 20'.
A rare, exotic, tropical hardwood from the Guianas with a snakeskin-like appearance.
This is an extremely hard, dense wood that turns - and polish well.
The wood is very resistant to decay fungi and termites.
For technical specifications visit the 2.fpl.fs.fed.us website.
The snakewood is green to lumber standards and treated with paraffin wax before shipment; the ends are sealed with Anchor Seal to deter checking.
However, some checking and cracking, especially in the center, is not uncommon for Snake wood logs.

Applications: turning, flooring, furniture, jewelry, ornamentals, inlay.
Appearance: plain, striped, highly figured.

Facts:
Bending Strength 14599 - 21599 psi .
Volumetric weight: 1,080 – 1,420 kg/m³ .
Radial Shrinkage 6 % .
Tangential Shrinkage 9 %.

Discounts:
0.5 m³ ( approx. 600 kg = 1,320 lb ) : 05%.
1.0 m³ (approx. 1,200 kg = 2,640 lb): 10%.
> 2 m³ (approx. 2,400 kg = 5,280 lb): 15%.

For more information about full container loads (FCL) e mail or call us.
Shipments are from Suriname, South America.