SOLANUM MACROCARPON - AFRICAN EGGPLANT.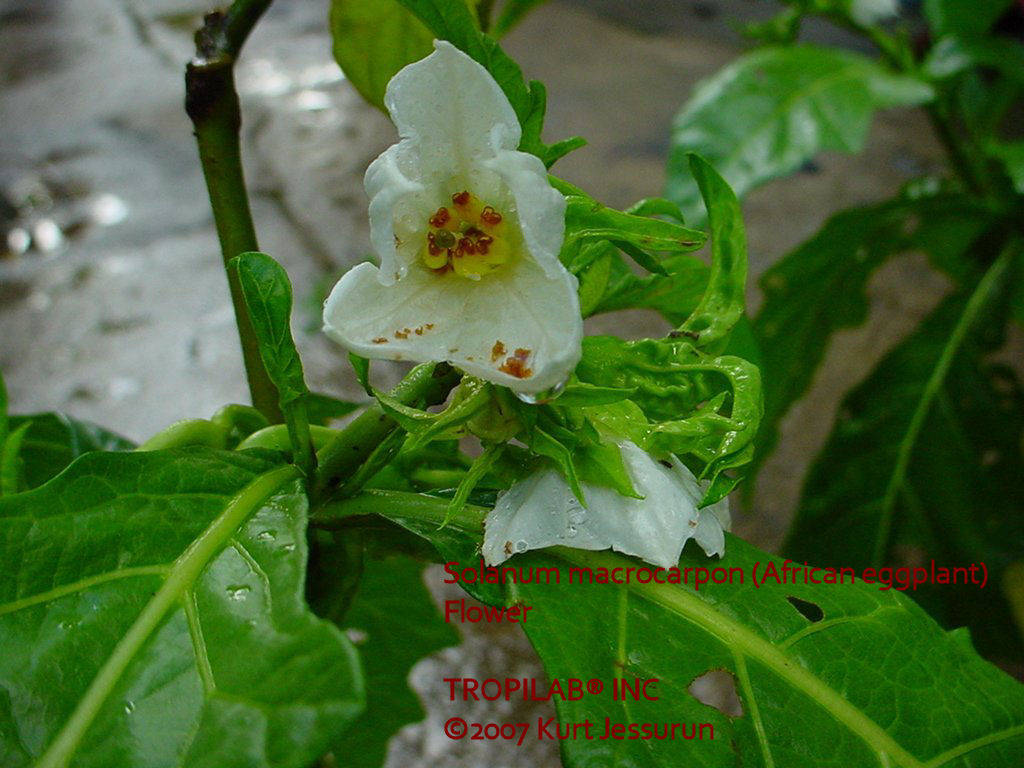 Synonym
Solanum indicum L.
Common name
African eggplant, terong asam, terong iban, aubergine gboma, anthora, antrua, Scarlet eggplant, Terong rapoh, Terong engkol, Terong kelapa, Aubergine d'Afrique, Sennari nasu, Berenjena, Melanzana petonciano, Afrikaanse aubergine, Afrikanische eierpflanze, Antroewa, bui, Melanzana petoncian.
Family
Solanaceae (Nightshade family).

Overview
African eggplant is a small tropical perennial; a delicious vegetable, originally from Africa but now cultivated on a large scale in Suriname.
Grows up to 3 feet tall, has oblong-lanceolate leaves and white-pink flowers.
This is a strictly tropical plant and temperatures below 40°F will damage the fruit.
The fruit is round, bright green calyx and pale creamy - white skin.
The first (selectively) harvest of leaves is after 40 - 50 days and the ripe fruit can be harvested after 80 - 100 days.
African eggplant has many applications and uses.
In India and Malaysia the mature acidic fruits are used as a sour relish.
In Indonesia and Suriname the bitter fruits are eaten cooked with rice, while the leaves can be either cooked or steamed.
In the Surinam cuisine, it is used in many dishes.

Medicinal applications
The root is used against bronchitis, itch and for body aches.
It is also used for asthma and to cure wounds while the seeds are used to treat toothache.

Hardiness
USDA zone 9 - 11.
Propagation
Seeds
Culture
Needs full sun and rich, well drained soil.
Protect from frost. It can be grown as an annual in zones 7 and 8.