SOLANUM STRAMONIFOLIUM - COCONILLA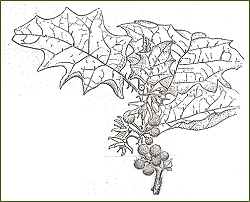 Common name
Bolo maka, coconilla, tapirillo, groseillier-diable, groseille sauvage.
Family
Solanaceae (Nightshade family).

Overview
Coconilla is a common tropical perennial shrub in Suriname growing up to a height of 12 feet with feather-lobe leaves.
The plant is allover armed with spines.
Bolo maka has white-yellow flowers and pollination is done by bees.
The plant is loaded with thorns on the stem, on and under the leaves.
It is always full of edible, round berry-like fruits, first green but later orange.
The fruits are growing in clusters on the plant.
The pulp of the fruit is juicy with numerous small seeds.

Medicinal applications
In Suriname's traditional medicine, the fruits and leaves are used to stimulate the urine discharge.

Hardiness
USDA zone 9 A - 11.
Propagation
Seeds.
Culture
Full sun / light shade, moist soil.
Plant in frost free spots. Can be grown as an annual in zones 7 and 8.