COSTUS BARBATUS - SPIRAL GINGER.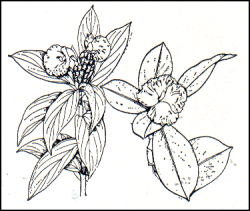 Common name
Spiral ginger, red tower ginger, cana de jabali, apagafuego, sangrafu.
Family
Zingerberaceae (Ginger family).

Overview
A very beautiful ginger (herbaceous perennial) with red spiral arranged leaves; sometimes classified under Costaceae.
It grows up to 9' tall with large green leaves, yellow flowers and a long, glossy red, inflorescence.
This plant is a favorite of hummingbirds.

Suriname's traditional medicine
An extract of the stem is used against gonorrhea also against the common cold, eye problems and as a laxative.

Hardiness
USDA zone 8 - 11.
Propagation
Rhizomes and cuttings.
Culture
Full sun / partial light shade, needs high humidity.
Flowers from April through November and the inflorescence lasts for months.
Don't tolerate long periods of cold; protect from frost.
Plant in frost free areas and avoid temperatures below 68° F (20° C).
They should be definite inside or in the greenhouse during the winter and early spring.
It can also be used as a cut flower.