SPONDIAS MOMBIN L. - HOG PLUM.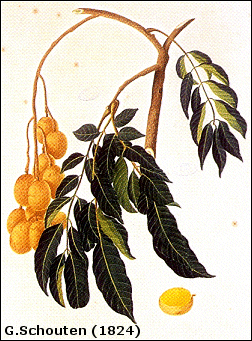 Synonym
Spondias lutea L., Spondias myrobalanus, Spondias brasiliensis.
Common name
Hog plum, tropical plum, marapa, Spanish plum, acaiba, mopé, jobo, hobo, ubo, yellow mombin, prune d'or, tapiriba, Ashanti plum, True yellow mombin, Jamaica plum, Spanish plum, Thorny hog plum, Mombin à fruits jaunes, Mombin franc, Gelbe Mombinpflaume, Acaiba, Acaja.
Family
Anacardiaceae (Sumac family).

Overview
The Hog plum tree grows in the rainforest and in the coastal area of Suriname.
An erect tree, it can reach a height of 80 feet. The trunk has deep incisions in the bark that often produce a brown resinous substance that can be used as glue.
The leaves and flowers are at the end of the branches.
Before the tree starts to flower, it strips itself from most of the leaves.
Hog plum has small white flowers, that attracts many honeybees.
The aromatic fruit, a 1½ inch long oval yellow plum, has a leathery skin and a thin layer of fruit-pulp with a very exotic taste.
It hangs in numerous clusters of more than a dozen at the tree.
Very rich in vitamin B1 and C, the fruit mostly exist of an oval seed.
In Suriname the fruit is consumed as juice or stewed with sugar, and as a saying goes; once you have eaten the tropical plum, "Mopé" as it is called locally, you will certainly come back once again to Suriname!

Suriname's traditional medicine
The juice of the leaves is used against: eye inflammation, diarrhea with griping and venereal diseases (leave infusion).
Visit our TINCTURE and MEDICINAL TEA pages.

Hardiness
USDA zone 9 - 11.
Propagation
Seeds and cuttings.
Due to recalcitrant nature of the seeds, they have a short viable life, can not be dried well and can not withstand low temperatures.
Culture
Full sun, soil should be moist; the plant needs high humidity.
Plant in frost free spots.
Recalcitrant seeds are not refundable since they are prone to fungus and often difficult to germinate.