Rice is the main staple in Surinam and it's therefore no wonder that there are numerous dishes with rice as the main ingredient!
There are many ways to prepare these; Indonesian, West Indian, Creole and Chinese.
Fried rice is cooked somewhat drier than normal.
For lonton dishes (Indonesian), soft-boiled rice is needed.
Often rice is cooked or steamed with certain leaves. These give a special flavor and/or smell to the dish.

Steamed - & cooked rice.
For steamed rice a steamer is needed; the longer the rice steamed, the softer it becomes.
Rice can be cooked in a rice cooker for best results.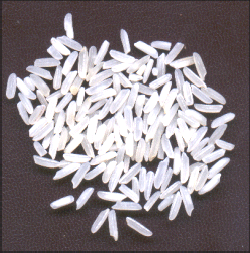 Creole:
Masusa rice
Mixed rice with cod

Indonesian:
Nasi koening
Nasi goreng
Lontong

Indian dishes:
Curry (massala) rice

Chinese:
Fried rice