XANTHOSOMA BRASILENSE - TANIER SPINACH.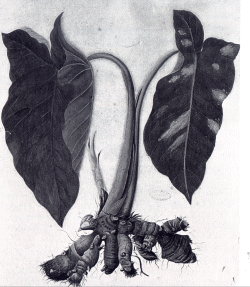 Synonym
Xanthosoma hastifolia, Caladium brasilense.
Common name
Tanier spinach, Tahitian taro, belembe, quelembe, calalou, tajerblad.
Family
Araceae (Arum family).

Overview
Tajerblad is a typical vegetable from the Amazon rainforest; grows up to 3 feet and has arrow shaped leaves.
It is widely grown for the tender leaves, which are edible and taste like spinach.
These leaves do not contain the needle-like crystals of calcium oxalate (raphides) that can irritate the mouth.
The leaves, contain among others, vitamin A, C and lots of proteins.
The leaves are key ingredients in many Surinamese - and Caribbean dishes.
For harvesting, cut the tender leaves when needed!

Hardiness
USDA zone 9 - 11.
Propagation
Bulbs (corms) or stem cuttings. .
Culture
Full sun / partial shade.
Soil must be well drained and must contain organic matter; however, it also needs lots of water.
Tanier spinach will not grow well in sandy soil or soil with low organic matter content.
Ph range of the soil is 5.0 - 8.0. Optimum growing temperature is about 80° F.
It does very well in hot wet conditions; it can withstand fungus and virus attacks.
Plant in frost free spots or in the greenhouse.