RAVENALA MADAGASCARIENSIS - TRAVELER'S PALM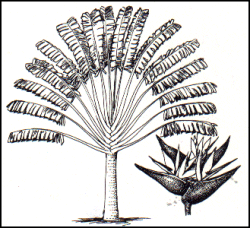 Common name
Arbol del viajero, arbre des voyageurs, baum der reisenden, traveler's palm, travellers palm, traveler's tree, waaierpalm.
Family
Streliziaceae (Bird of paradise family).

Overview
Although Traveler's palm is called a palm; it is not a true palm.
It grows up, to 50' tall, while the big banana-like leaves can grow up to 15' long.
The leaves are arranged in a
fan-shaped manner; it has a rather short, palm like, trunk.
The small white flowers are held in bracts. In these bracts and leaf folds, rainwater is collected.
The fruits are brown while the seeds are blue.
Originally from Madagascar, it grows abundantly in Suriname.

Hardiness
USDA zone 9B - 11.
Propagation
Seeds, replanting of the clumps.
Due to recalcitrant nature of the seeds, they have a short viable life, can not be dried well and can not withstand low temperatures.
Culture
Full sun / partial shade; grows well on moist and rich sandy loam and clay soils.
The traveler's palm can be used as an accent plant.
Protect from frost or plant in frost free locations.
It can also be grown indoors or in the greenhouse. The rhizomes can be big and heavy.