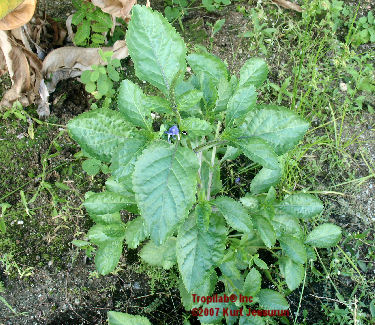 Overview

Gervao (Blue verbena) has many applications and benefits. It is effective against gastric and liver problems, colds, flu, asthma; as a natural antihistamine and anti-inflammatory.
It is also used as a stomach tonic, to stimulate the function of the gastrointestinal tract, for dyspepsia (indigestion), for fevers and to promote perspiration.
It showed profound effects on sleep-wake stages suggesting potential sedative effects.


Phytochemical

Alkaloids, tannins, 6-hydroxyluteolol-7-glucuronide, Apigenol-7-glucuronide, Alpha-Spinasterol, Butyric Acid, Chlorogenic-acid, Dopamine, Dotriacontanen, Friedelin, Hentriacontane, Hispidulin, Ipol-amide, Luteolol-7-glucuronide, Nonacosanen, Pentriacontane, Scutellarein, Spinasterol, Stachytarphine, Stigmasterol, Tarphetalin, Tetratriancontane, Triacontanen, Tritriacontane, Ursolic Acid


Pharmacology


Alcoholic and n-butanolic extracts of dried leaves of Stachytarpheta cayennensis were assessed in anti-inflammatory- and antinociceptive models.
The results indicate that S. cayennensis shows anti-inflammatory properties which seems to be due, at least partly, to the inhibition of bradykinin (causes blood vessels to enlarge) and histamine (produced as part of a local immune response to cause inflammation). The extracts also exhibited antinociceptive activity.

Parts of Stachytarpheta cayennensis were tested for their effects on gastric secretion, gastric motility, inflammation and pain in rodents, with the purpose of validating the plant's ethno-medical uses.
The results confirmed folk information indicating presence of analgesic, mild laxative and potent inhibition of gastric secretion activities in extracts of S. cayennensis.

The leaf extract possesses significant antiplasmodial activity which confirms its use in folkloric medicine in the treatment of malaria.
Gervao has considerable mean survival time, comparable to that of the standard antimalaria drug Chloroquine.

For more information on Gervao, go to the "MEDICINE FROM NATURE" page.


Dosage

Tincture: 1 - 2 ml. daily (1 - 3 full dropper).
Infusion (herbal tea): 0.5 - 1 cup daily.


Precaution

Those with low blood pressure or on antihypertensive medications should consult their doctor before using this.
Do not use during pregnancy


Reference

Anti-inflammatory and antinociceptive activities of extracts and isolated compounds from Stachytarpheta cayennensis.
Schapoval, E.E. et al.
J. Ethnopharmacol. 1998; 60(1): 53-9

Pharmacological and chemical evaluation of Stachytarpheta jamaicensis (Verbenaceae)
Melita Rodriguez, S. et al.
Rev. Biol. Trop. 1996 Aug; 44(2A): 353-9.

Screening of medicinal plants from Trinidad and Tobago for antimicrobial and insecticidal properties.
Chariandy, C.M., et al.
J. Ethnopharmacol. 1999 Mar; 64(3): 265-70.


The above presentation is for informational and educational purposes only.
It is based on scientific studies (human, animal, or in vitro), clinical experience, or traditional usage.
For many of the conditions discussed, treatment with prescribed (RX) or over - the - counter medication (OTC) is also available.
Consult your doctor, practitioner, and/or pharmacist for any health problem and before using dietary supplements or before making any changes in prescribed medications.