Overview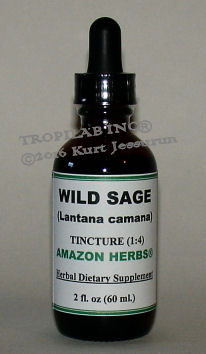 Lantana (Wild sage) is a small creeping scrub from South America. This medicinal plant is used for the treatment of skin itches, as an antiseptic for wounds, and for external use against leprosy and scabies.
The bark is astringent and used as a lotion in leprous ulcers and other eruptions of the skin. The leaves are boiled and applied for swellings and pain of the body. Alkaloids from lantana have been found to stimulate intestinal movements in experimental animals, lower blood pressure and accelerate deep respiration.
Plant extracts are used in folk medicine for the treatment of cancers, chicken pox, measles, asthma, ulcers, eczema, tumors, high blood pressure, bilious fevers, catarrhal infections, tetanus and rheumatism.
Extracts from the leaves exhibit antimicrobial, fungicidal, insecticidal and nematicidal activity.


Phytochemicals

Pentacyclic triterpenoids. New Compounds 1lantanoside, 2lantanone, 3Methy1 ursoxylate (12) 4Lancamaric acid, 5Ursoxy acid, 6Ursangilic acid, 7Ursethoxy acid, 8Camangelogyl acid, 9Methlcamaralate, 10Camangeloyl acid, 11Camarolide, Known compounds 12ÃZŲ-Sitosterol-3-O- ÃZŲ-D- glucopyransoide, 13Linaroside, 14Dotriacontanoic acid, 15Camarinic acid, 16Oleanolic acid acetate, 17Tetracosanoic acid, 18Octadecanoic acid, 19Docosanoic acid, 20Palmitic acid, 21Camaric acid, 22Lantanolic acid, 23Oleanolic acid, 24Lantanilic acid, 25Oleanonic acid, 26Ursonic acid.


Pharmacology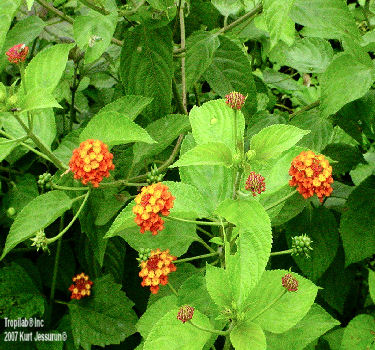 A study was done to investigate excision wound healing activity of the leaf extract. The studies demonstrated that Lantana camara is effective in healing excision wounds in the experimental study and could be evaluated as a therapeutic agent in tissue repair processes associated with skin injuries. The extract significantly enhanced the acceleration rate of wound enclosure.
The translactone-containing triterpenes of this plant show thrombin inhibitory activity, act as anticoagulants (delaying blood clotting).
A study showed the leaf extract of Lantana is cytotoxic in nature and may possess antitumor activity that may be due to the presence of toxic lantanoids and alkaloids.

Lantana camara is used for the treatment of skin itches, as an antiseptic for wounds, and externally for leprosy and scabies.
The objective of one study was to investigate excision wound healing activity of the leaf extract. Treatment of the wounds with extract enhanced significantly the rate of wound contraction (98%), synthesis of collagen and decreased mean wound healing time.
The leaf extract containing flavonoids, may mediate the wound healing process.
A current study revealed that methanolic extracts were suitable as topical application for wounds as indicated by the significantly faster rate of healing and reduced scarring at the wound enclosure. Histologically, there were also comparably fewer inflammatory cells, more angiogenesis and collagen fibers in the granulation tissue.

The methanolic extract of Lantana camara leaves shown healing of gastric ulcers and also prevents development of duodenal ulcers in rats. Extracts of the fresh leaves are antibacterial and are traditionally used in Brazil as an antipyretic, carminative and in the treatment of respiratory system infections.

For more information on Wild sage, go to the LANTANA CAMARA plant page.


Dosage

Tincture: 1 - 3 ml. daily.
Infusion (herbal tea): 1 -2 cups daily.
External: on wounds with gauze dressing.


Caution/side effects
Little or no side effects are known.


Reference

Acceleration of Wound Healing Potential by Lantana camara Leaf Extract in Experimental Rats.
Mahmood Ameen Abdulla, Pouya Hassandarvish, Hapipah Mohd Ali, Suzita Mohd Noor, Fouad Hussain Mahmoud, Nor Syuhada Ahmad Bashah, Rosaimawati Haji Rokik and Wjidan I. Khalil.

Evaluation of wound healing activity of Lantana camara L. : a preclinical study.
Nayak BS, Raju SS, Eversley M, Ramsubhag A.
Department of Preclinical Sciences, Biochemistry Unit, Faculty of Medical Sciences, The University of the West Indies, St Augustine, Trinidad.

Antiulcerogenic activity of Lantana camara leaves on gastric and duodenal ulcers in experimental rats
R. Sathisha, Bhushan Vyawaharea and K. Natarajanb
Journal of Ethnopharmacology Volume 134, Issue 1, 8 March 2011.


The above presentation is for informational and educational purposes only.
It is based on scientific studies (human, animal, or in vitro), clinical experience, or traditional usage.
For many of the conditions discussed, treatment with prescribed (RX) or over - the - counter (OTC) medication is also available.
Consult your doctor, practitioner, and/or pharmacist for any health problem and before using dietary supplements or before making any changes in prescribed medications.



For the right freight rate, please visit our Webstore page!