WEDELIA TRILOBATA - YELLOW DOTS.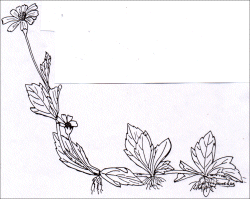 Synonyms
Sphagneticola trilobata, thelechitonia trilobata.
Common name
Wedelia, yellow dots, rabbits paw, trailing daisy, creeping ox - eye.
Family
Asteraceae (aster family).

Overview
A tropical perennial, with deepley lobed fleshy leaves, growing up to 10 inch tall, spreading like a mat; it makes a dense cover, if allowed.
It blossoms profusely; the flowers are orange - yellow.
Wedelia creeps and roots at the nodes.

Suriname's traditional medicine
Wedelia is used to treat hepatitis, infections and to clear the placenta after birth.

Hardiness
USDA zone 8B - 11.
Propagation
Seeds, division and tip cuttings.
Culture
Full sun / partial shade, moist well drained soil.
Plant in frost free areas, will be killed by frost but comes back in the spring.
This plant type can be used as a ground cover.