MUSA PARADISIACA L. - BANANA.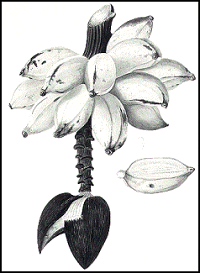 Common name
Banana, pisang, plantain.

Family
Musaceae (Banana family).

Overview
Banana is a tropical tree-like herb, with large leaves of which the overlapping bases form the so-called false trunk. Fully grown, the stem reaches a height of 10 - to 30 feet.
From the center of the crown spring the flowers. Only female flowers develop into a banana fruit that vary in length from about 4 - 12 inches. The average weight of a bunch is about 25 lbs.
Each banana plant bears fruit only once.
The propagation is through shoots from the rhizomes, since most of the seeds species are sterile.
The unripe fruit of banana, rich in starch, is cooked as food or dried and ground into flour. The fruit of the plantain (cooking banana) is larger, coarser and less sweet than the kinds that are eaten raw.
On ripening of the fruit, the starch turns into sugar.
Although the banana family is of more interest for its nutrient than its medical properties, it has some value in traditional medicine.

Visit our APPLICATION & DOSAGE -, CHOLESTEROL -, DIABETES - , HYPERTENSION - and TINCTURE pages.

Suriname's Traditional Medicine
The red protecting leaves of the bud are used against heavy menstrual bleeding (menorrhagia).
Other applications are against: diarrhea, dysentery, migraine, hypertension, asthma and jaundice.

Hardiness
USDA zone 8 B - 11.

Propagation
Rhizomes.

Culture
Full sun / light shade, moist soil, containing rich compost; plant in frost free spots.