UNCARIA GUIANENSIS - CAT'S CLAW.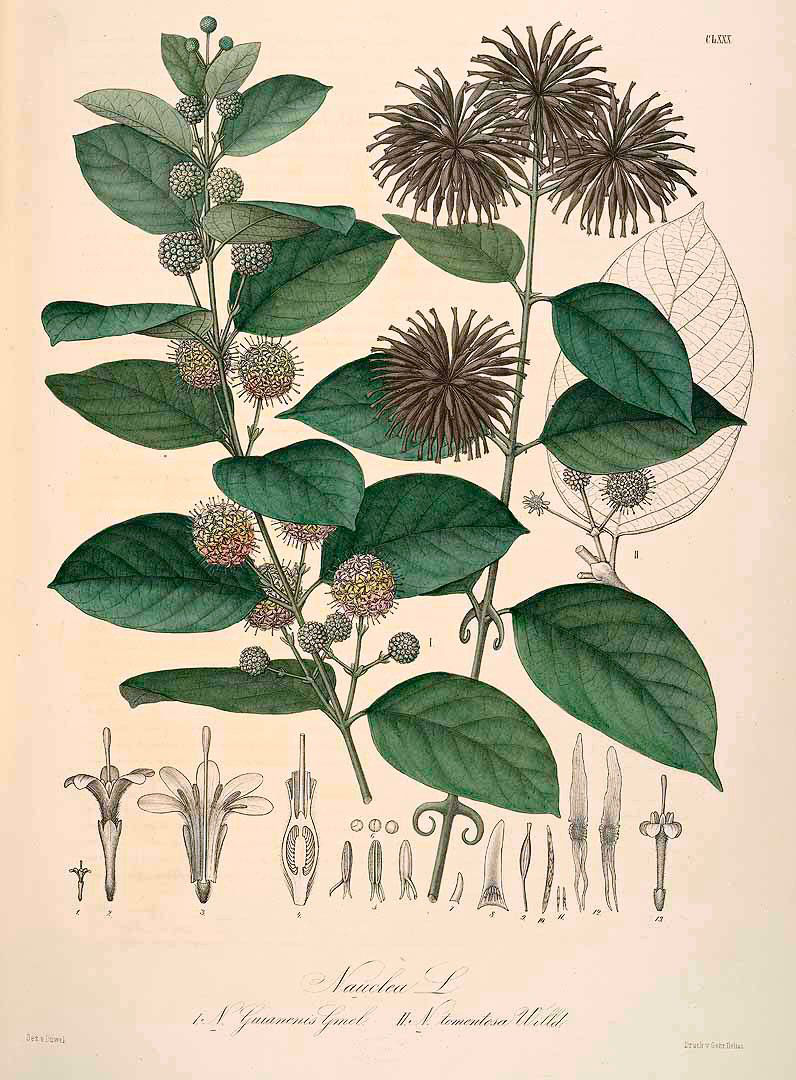 Synonym
Ourouparia guianensis.
Common name
Cat's claw, garabato blanco, kattenklauw, paraguayo, una de gato, una de gavilan.

Family
Rubiaceae, (Madder family).



Overview
Cat's claw is a large perennial; a woody vine (liana) from the Amazon rainforest. It has white bisexual flowers, simple leaves - elliptic to oblong and hook-like thorns at the base of the leaves that resemble the claw of a cat.
The fruits are elliptical capsules with numerous small seeds.
It grows up and around trees, up to more than 100' high.
There are 60 species of this genus but there are two very closely related species in Suriname: Uncaria tomentosa (at higher elevations) and Uncaria guianensis (at lower elevations). They can be used interchangeably.
The parts harvested (wild harvested) are the bark of the woody stem, roots and the leaves.
Phytochemicals in the plant include: alkaloids, anthraquinones, sterols, triterpenes, glycosides, polyphenols, tannins.
These phytochemicals have been shown to provide natural support against many viruses. They can also be used to build the immune system since it is an immuno stimulant.
The bark of the stem is most used in the applications.

Suriname's Traditional Medicine
Uncaria guianensis is used for the treatment of wounds, dysentery,immune system, cancer, intestinal infections and many other applications.

Visit also our APPLICATION & DOSAGE -, CHOLESTEROL -, DIABETES - , HEPATITIS -, HYPERTENSION - and TINCTURE pages.

Hardiness
USDA zone 9B - 11.
Propagation
Seeds.
Culture
Full sun / partial shade, well drained soil.
Plant in frost free locations.