CECROPIA SPECIES - TRUMPET TREE.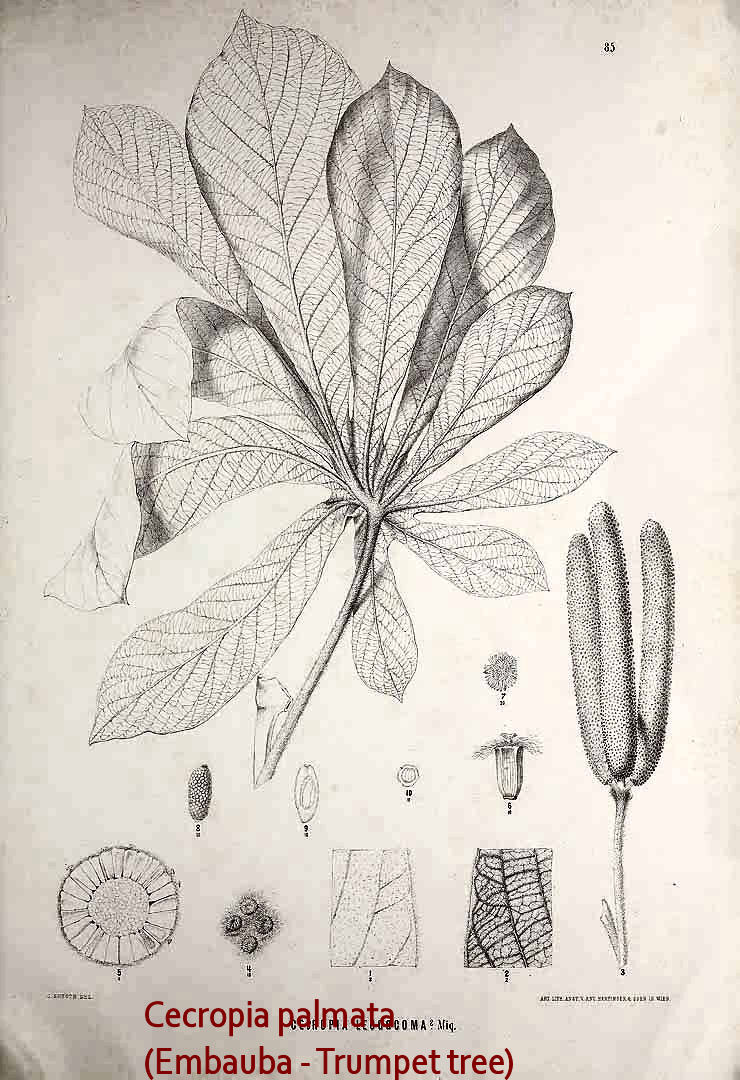 Common name
Trumpet tree, embauba, trompettier, snake wood, yagruma, bois cannon, Yagrumo hembra, ambay, sandpaper tree.
Family
Moraceae (Mulberry family).

Overview
Trumpet tree is a fast growing tropical tree, with a tall ungainly open habitat of growth, abundant in the tropical rainforest.
Cecropia (Embauba) consists of more than 100 species; C. Palmata, Peltata, Insignis and Obtusifolia are best known.
The hollow internods of the trees are infected by biting ants, attracted by the milky latex.
Cecropia species are dioecious and has leaves that are deep divided while peltata's leaves go only a third of the way in.
A slender trunk with smooth, gray bark, open branching and huge palmate leaves. It has small inconspicuous flowers and 6' long pencil-like seedpods, sometimes called snake fingers.
There are numerous small seeds in the pods.
The latex of the Embauba leaves is used against warts, calluses and venereal diseases.
The foliage of trumpet tree is evergreen, palmate; dark green above, white beneath.
The Amerindians used a solution of the bark to capture wasps. They are used in the ritual wasp-test when a boy becomes a man.
In the Amazon rainforest, the leaves are the food of choice by sloths.

Constituents
Glycosides, lipids, alkaloids, flavonoids, tannins, cardenolids, triterpenes, polyphenols, steroids, and resinsambain such as: arachidic acid, behenic acid, cecropin, cerotic acid, chlorogenic acid, isoorientin, leucocyanidin, lignoceric acid, polysaccharides, proanthocyanidins, stearic acid, and ursolinic acid.

Suriname's traditional medicine
The leaves of Embauba are used against: albumin in the urine and have a good effect on the urinary passages, bladder and kidney disorders.
Tea made from the leaves is used as a cure for asthma, cough and other upper- respiratory complaints such as bronchitis, Chronic Obstructive Pulmonary Disease (COPD), emphysema and pulmonary sarcoidosis.

Visit our: CHOLESTEROL -, DIABETES - , HYPERTENSION - , TINCTURE and APPLICATIONS AND DOSAGE pages.

Hardiness
USDA zone 9B - 11.
Propagation
Seeds.
Culture
Needs full sun. Plant in nearly frost free areas; Cecropia trees are killed by frost.
It can be used for a tropical effect in landscaping.