CEIBA PENTANDRA L. - KAPOK TREE.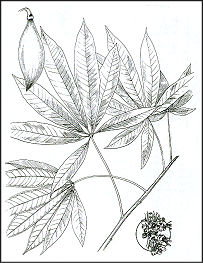 Common name
Kapok tree, silk cotton tree, ceiba de lana, bois coton, kapokier, pacae, sumauma, kankantri.
Family
Bombacaceae (Balsa tree family).

Overview
A very large majestic tree, with a conspicuously buttressed trunk. The kapok tree grows more than 200' tall: with widely spreading branches, it is the tallest tree of the Amazon rainforest. The trunk can become more than 9' in diameter.
This deciduous tree is host to numerous aerial plants, insects, birds, frogs and other animals.
The silk cotton tree is deciduous and all the leaves are shed during the dry season.
The silk cotton tree is cultivated for kapok.
This floss is light and fluffy, resistant to water and decay. It is used as a stuffing in life jackets.
This tree is held sacred by the ancient Mayas.
In Suriname the Maroons and Amerindians have that same tradition.
While still on the tree, the fruits burst open exposing the cotton like substance, which is the kapok of commerce.
The small, brown seed, in betted within the fluffy kapok, is blown away in the wind for many miles.
Oil from the seeds is used in edible products and the ground seeds in animal feed.

For more information on Ceiba pentandra visit our: "MEDICINE FROM NATURE" page.

Visit also our APPLICATION & DOSAGE, CHOLESTEROL -, DIABETES -, and HYPERTENSION pages.

Suriname's traditional medicine
The seeds, leaves, bark and resin, from the kapok tree are used for: dysentery, fevers, venereal diseases, asthma, menstruation bleedings and kidney diseases.

Hardiness
USDA zone 9B - 11.
Propagation
Seeds.
Culture
Full sun / party shade, organic rich soil. Plant in a frost free locations; can be used in landscaping as a specimen tree.