Overview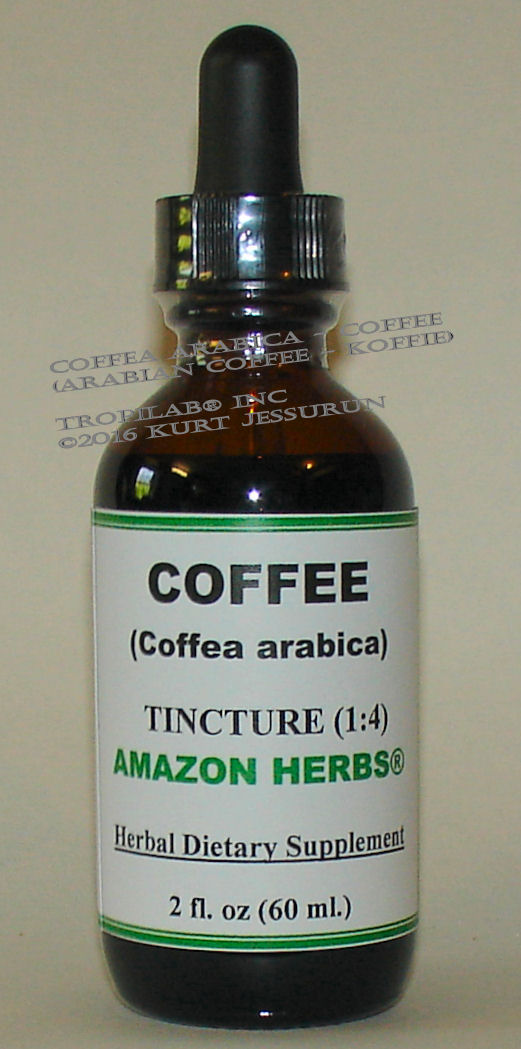 Coffee is one of the most popular drugs worldwide; caffeine is also used as a preservative in beverages and in many medications.
The coffee tincture contains among others, caffeine (a phyto-chemical naturally occurring in many plants). It is a mild natural stimulant and effectively used to keep one alert and focused when needed!
Coffee also decreases fatigue, and improves muscle coordination.
Caffeine is an alkaloid (C8H10N4O2), also called guaranine or methyl-theobromine. In pure form it is a white crystalline powder.
A complex mixture of chemical compounds is present in coffee.
Effects become apparent within 30 minutes and peak effectiveness is in 45 - 70 minutes.
If you need mental alertness without calories and sugar, associated with common foods and drinks, coffee herbal tincture is a functional alternative to the caffeine in your normal diet.



Constituents

The coffee beans contain a mixture of polyphenol antioxidants, bioflavonoids and vitamins. Coffee also contains many other compounds, such as substantial amounts of magnesium, potassium, trigonelline (N-methylnicotinic acid) . Caffeic acid, chlorogenic acid, eugenol, caffeine, niacin, scopoletin, theobromine, tannic acid, tannin, theophyllin.




Pharmacology

Caffeine affects the brain by blocking adenosine (a phytochemical that transmits pain signals to the brain) receptors; this slows down the nerve cell activity. When the caffeine molecule binds to the receptors of nerve cells, it causes the release of hormone epinephrine, resulting in increased heart rate, increased blood flow to the muscles, increased blood pressure, decreased blood flow to the skin, decreased blood flow to the inner organs, a release of glucose by the liver and increase in the levels of the neurotransmitter dopamine in the brain.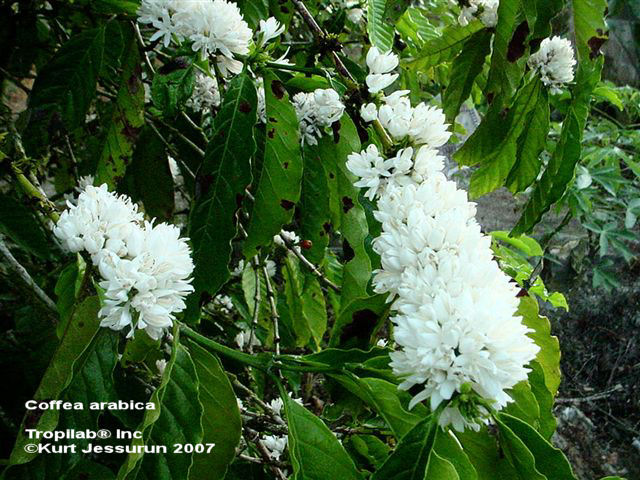 There is ongoing research in the positive role of coffee in the search for a cure for Parkinson & Alzheimer's disease.
It also seems that the risk of gallstones declines with caffeine intake.
Most non-prescription dietary herbal supplements contain caffeine as a common element. These non-prescription dietary aids are occasionally also known as appetite suppressants.

Pharmaceutical companies often incorporate caffeine as an ingredient in prescription as well as OTC (non-prescription) drugs as a remedy of headache and in analgesics (pain killers).
Extra-strength Excedrin contains 65 mg of caffeine. Fioricet and Norgesic are pain medications that also contain caffeine. Cold medicines and diet pills often also have caffeine.
Coffee also may have antidiabetic activity; studies have linked coffee drinking to a lower risk of type 2 diabetes - the type that is closely linked to obesity.

Used as a stimulant in narcotic poisoning to halt sleep.
In homeopathic doses, coffee is given for sleeplessness due to mental activity, tension, and anxiety.
It may be adequate for avoiding or delaying Parkinson's disease and reducing risk of colorectal cancer.

Caffeine is very similar to theophylline. This is a bronchodilator that opens up the airways in the lungs and as such relieves the symptoms of asthma such as (wheezing, coughing and breathlessness). Even small amounts of caffeine can improve lung function for hours.
Caffeine appears to improve airways function modestly.
Asthma is a lung disease in which the lungs are overly sensitive to a wide range of substances and vapors.
When caffeine is ingested through coffee it is processed by the liver and broken down into several chemicals (including theophylline).


Applications

Stimulant, diuretic, digestive, analgesic.
Significant reducing of post work-out pains; it also raises the pain threshold which is an advantage with works-outs.
The caffeine in coffee enhances the effects of common OTC (over the counter) painkillers such as aspirin.


COFFEE FORTE TINCTURE 1:1

It is stronger than the normal tincture since it is far more concentrated.

Tincture:
Adults older than 12 years: one (1) ml. (30 drops); it contains 200 mg. pure coffee extract.
This is the amount of caffeine present in a cup (16 oz.) coffee.
Take 0.5 - 1.5 ml. (15 - 45 drops), depending on your personal needs; 3 - 4 times a day.

Coffee forte: one full pipette contains 500 mg. pure coffee extract.


Warning / precaution

Do not take as a substitute for sleep.
If pregnant, check with your physician before taking it.
Caffeine should be used with caution by people with heart disease and high blood pressure (hypertension).
Those suffering from the eye disease glaucoma should refrain for taking it.
Caffeine should generally not be used in children; although it does not fall into the class of "addictive" drugs but it may be habit-forming.
Coffee may interfere when using certain other drugs.


Reference

Alvim, P.T. 1985. Coffea, pp. 308-316. In: A.H. Halevy (ed). CRC handbook of flowering, volume 2. CRC Press, Boca Raton, Fla.
Boucher, D.H. 1983. Coffee (Cafe), pp. 86-88. In: D.H. Janzen (ed.) Costa Rican natural history. Univ of Chicago Press, Chicago, IL.
Clarke, R.J. and R. Macrae. 1985. Coffee. Vol 4: agronomy. Elsevier Applied Science, New York.
Clarke, R.J. and O.G. Vitzhum. 2001. Coffee: recent developments. Blackwell Publ., Oxford, UK.
Clifford, M.N and K.C. Willson, eds. 1985. Coffee: botany, biochemistry and production of beans and beverage. AVI Publ., Westport, Conn.
Debry, G. 1994. Coffee and health. John Libbey Eurotext, Paris.
Duke, J.A. and J.L. DuCellier. 1993. CRC handbook of alternative cash crops. CRC Press, Boca Raton, Fla.
Ferwerda, F.P. 1976. Coffee, pp. 257-260. In: N.W. Simmonds (ed), Evolution of crop plants. Longman Sci., London.
Gilman, E.F. 1999. Coffea arabica. Florida Coop. Ext. Ser. Fact Sheet FPS-135.
Haarer, A.E. 1963. Coffee growing. Oxford Univ Press, London.
Maestri, M. R.S. Barros, and A.B. Rena. 2001. Coffee, pp. 339-360. In: F.T. Last (ed). Tree crop ecosystems. Elsevier Press, New York.
Willson, K. 1999. Coffee, Cocoa, and Tea. CAB International. Wallingford, UK.
Wrigley, G. 1988. Coffee. Longman Scientific & Technical, London.
Cochrane Database of Systematic Reviews: Plain Language Summaries [Internet]. The effect of caffeine in people with asthma. This version published: 2012; Review content assessed as up-to-date: August 11, 2011


The above presentation is for informational and educational purposes only.
It is based on scientific studies (human, animal, or in vitro), clinical experience, or traditional usage.
For many of the conditions discussed, treatment with prescribed (RX) or over - the - counter medication (OTC) is also available.
Consult your doctor, practitioner, and/or pharmacist for any health problem and before using dietary supplements or before making any changes in prescribed medications.




For the right freight rate, shipping charges, conditions and delivery service, please visit our Webstore page!