Overview and Applications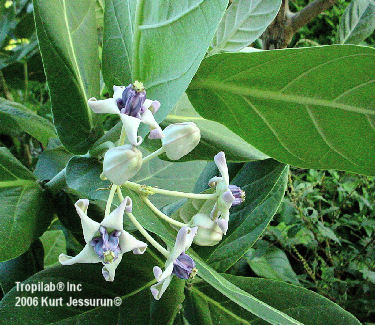 Giant Bloodflower is used as a traditional medicinal plant in India. Known as Arka (or Aak) in the Ayurvedic System of Medicine. The leaves, root and root bark are used in India to treat common diseases such as fevers, rheumatism, joint pain, gout, indigestion, cough, cold, eczema, asthma, constipation, elephantiasis, nausea, jaundice vomiting and diarrhea.
It is used both internally as well externally.
The plant has CNS (Central Nervous System) activity; scientific research shows analgesic, anticonvulsant, anxiolytic (inhibits anxiety) and sedative effect.
It may also be used with success in the treatment of Syphilis.
The root bark has a digitalis-like effect on the heart. This is a powerful beneficial effect on patients with heart failure, arterial fibrillation and a rapid ventricular rate.
However, calotropin, a compound in the latex of this plant is very toxic.
The plant is further used extensively in Ayurvedic and homeopathic remedies.


Phytochemicals

Calotropin, uscharin & calotoxin (glycosides); Calotropone (a pregnanone); calotropnaphthalene (naphthalene derivative); calotropisesquiterpenol & calotropisesterterpenol (terpene derivatives); calotropbenzofuranone (aromate); sucrose; madaralban; madarfluavil).


Pharmacology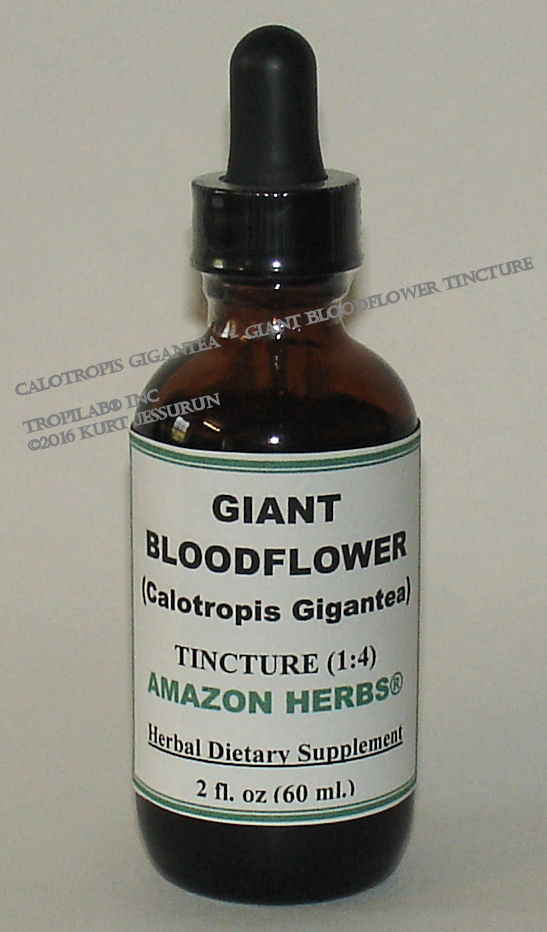 Calotropis gigantea has been reported to possess medicinal properties and other purposes. The purpose of a study was to evaluate scientifically the anti-diarrhea effects of C. gigantea used traditionally in the Indian system of medicine, using the castor oil-induced diarrhea model.
Results: like atropine (3mg/kg, i.p.) there were significant reductions in fecal output and frequency of droppings when the plant extracts of 200 and 400 mg/kg doses were administered intra-peritoneally compared with castor oil treated rats. All doses of the plant extracts also significantly retarded the castor-oil induced enteropooling and intestinal transit.
Conclusions: The remarkable anti-diarrhea effect of the extract against castor oil-induced diarrhea model attests to its utility in a wide range of diarrheal states.
The alcoholic extracts of this plant is known to induce spermicidal and anti-microbial properties as well.
It also simulates estrogens in the reproductive tract and acts as anti-fertility drug.

This plant is a natural digestive stimulant and restorative (ability to restore health, strength or feeling of well-being); it has anti-bacterial activity against gram-positive and gram-negative bacteria.

Cancer-fighting properties of Calotropis gigantea.
The use of calotropin as a contraceptive and as a promising cancer medication are being researched.
DCM extracts were demonstrated to be strongly cytotoxic against non-small cell lung carcinoma (A549), colon carcinoma (HCT 116), and hepatocellular carcinoma (Hep G2).


For more information on Giant Bloodflower, go to the "Calotropis gigantea" plant page.



Dosage

Tincture: check with your qualified herbalist or homeopathic physician.
Infusion (herbal tea):


Precaution & contra-indications

Not recommended for self medication since it contains poisonous substances and can cause serious side effects due to interaction with other medicines.
Do not use during pregnancy and lactation.


Reference

Studies on anti-diarrhoeal activity of calotropis gigantea r.br. in experimental animals.
Havagiray R. Chitme
Institute of Pharmacy, Bundelkhand University, Jhansi, Uttar Pradesh, IndiaRamesh ChandraBundelkhand University
Sadhna Kaushik
Department of Pharmacology, Maharani Laxmi Bai Medical College, Jhansi, Uttar Pradesh, India

CNS activity of Calotropis gigantea roots
Ameeta Argal and Anupam Kumar Pathak
Department of Pharmacy, Barkatullah University, Bhopal 462026, M.P., India
References and further reading may be available for this article. To view references and further reading you must purchase this article.

A New Cytotoxic Pregnanone from Calotropis gigantea
Zhu-Nian Wang*, Mao-Yuan Wang*, Wen-Li Mei**, Zhuang Han** and Hao-Fu Dai* **
* Institute of Crops Genetic Resources, Chinese Academy of Tropical Agricultural Sciences, Danzhou, 571737, P. R. China
** Institute of Tropical Bioscience and Biotechnology, Chinese Academy of Tropical Agricultural Sciences, Haikou, 571101, P. R. China



The above presentation is for informational and educational purposes only.
It is based on scientific studies (human, animal, or in vitro), clinical experience, or traditional usage.
For many of the conditions discussed, treatment with prescribed (RX) or over - the - counter (OTC) medication is also available.
Consult your doctor, practitioner, and/or pharmacist for any health problem and before using dietary supplements or before making any changes in prescribed medications.