GOSSYPIUM BARBADENSE - SEA ISLAND COTTON.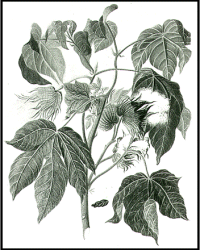 Common name
Algodon pais, Creole cotton, Long staple cotton, Pima cotton, Sea Island cotton, West Indische katoen.
Family
Malvaceae (Mallow family).

Overview
A tropical perennial plant with yellow flowers and black seeds. Contains the chemical compound Gossypol; confers insect resistance to the plant.
Gossypol is a yellow pigment, from the stem seeds and root, that also has antifungal - and antitumor properties. It is also used as antifertility drug; used extensively in China as a male contraceptive.
From the small seeds edible oil is produced.
The seed-fluff (3 – 5 cm) is of extraordinary quality and used by the Amerindians to weave hammocks.

Suriname Traditional Medicine
The leaves are used in the treatment against hypertension, delayed - and irregular menstruation.
An extract from the flowers is used against ear inflammation.
Another therapeutic application is the use as an emmenagogue (a substance that helps to promote menstruation).
Visit also our APPLICATION & DOSAGE -, CHOLESTEROL -, DIABETES - , HYPERTENSION - and TINCTURE pages.


Hardiness
USDA zone 9 - 11.
Propagation
Seeds.
Culture
Full sun, needs high humidity and high rainfall.
The plant is very sensitive to frost, so plant in frost free areas.