SYZYGIUM CUMINI L. - JAMUN.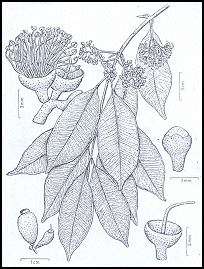 Synonym
Syzygium jambolanum, eugenia cumini, eugenia jambolana.
Common name
Java plum, jambul, jamun, jaman, black plum, faux pistachier, Indian blackberry, jambol, doowet, jambolan.
Family
Myrtaceae (Myrtle family).



Overview
The evergreen Jamun plant is originally from Indonesia and India; it now grows abundantly in Suriname. It has dispersed spontaneously in the wild as the seeds are sought by birds.
An evergreen tropical tree 50 to 100 ft. tall, with oblong opposite leaves that are smooth, glossy; they have a turpentine smell.
The bark is scaly gray and the trunk forks into multiple trunks about 3 - 5' from the ground.
Jamun has fragrant white flowers in branched clusters at stem tips and purplish-black oval edible berries.
The juicy fruit-pulp contains resin, gallic acid and tannin; it tastes usually from acid to fairly sweet.
The somewhat astringent, jamun fruit can be utilized for juice.
This berry has only one seed. Although a tropical tree, it grows easy in sub-tropical climates and can also be found in Florida, USA.
It starts bearing fruit in 4 - 7 years.

Medicinal applications
All parts of the java plum can be used medicinally and it has a long tradition in alternative medicine.
The bark has anti-inflammatory activity and is used In India for anemia, the bark and seed for diabetes which reduce the blood sugar level quickly, the fruit for dysentery and leave's juice for gingivitis (bleeding gums).
In the Philippines and Suriname wine is made from the fermented fruit.
In Surinam also, the whole leaves are used by women as a feminine sitz-bath to shrink the vagina after giving birth and getting rid of mucus and odors. This bath from the Jamun leaves is also used at any other time to shrink the vagina. This gives the ultimate in sexual pleasure for both partners!

For more information on the phyto-chemistry and pharmacology, visit
the "MEDICINE FROM NATURE page" and the APPLICATIONS & DOSAGE page.

Visit also our CHOLESTEROL -, DIABETES - , HYPERTENSION - and TINCTURE pages.

Suriname's Traditional Medicine
The leaves are used against diarrhea and fever; the fruit against diarrhea and abdominal pains.
The seed is used against diabetes and blood pressure. Bark, leaves and flowers against diabetes.

Hardiness
USDA zone 8A - 11.
Propagation
Seeds.
Due to recalcitrant nature of the seeds, they have a short viable life, can not be dried well and can not withstand low temperatures.
Culture
Full sun, soil: dry to moist.
Plant in frost free spots. The mature tree has drought tolerance.
Can withstand brief periods of 30° F.
Recalcitrant seeds are not refundable since they are prone to fungus and often difficult to germinate.