Overview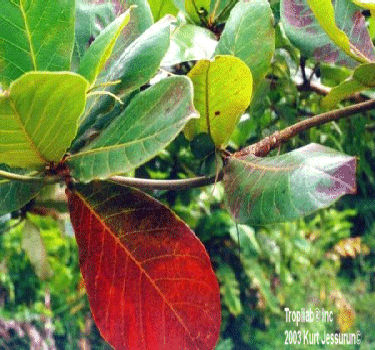 Tropical almond is a medium size tropical tree whose branches form layers of canopy.
All parts of the plant (leaves, bark, roots, fruit and wood) are used in traditional medicine, such as in dysentery; dressing of rheumatic joints; treating coughs and asthma. The fruit may be helpful in treatment of leprosy, headaches and in reducing travel nausea. The leaves seem to get rid of intestinal parasites; treat eye problems, rheumatism and wounds (the bark extract promotes considerable wound-healing activity). It also stops the bleeding during teeth extraction.
Tropical almond has strong antibacterial properties and works against Gram positive and Gram negative micro-organisms.
The leaves have been shown to protect against acute liver injury produced by some hepato-toxicants (chemicals that produce liver damage).
In Taiwan the fallen leaves are used to treat liver diseases (hepatitis) and prevention (hepatoma).
The leaves also have potential in the management of sickle cell disorders.
Tropical almond is one of the most effective anti-fungal plants; seeds and fruit are edible.
Dried leaves are used for fish pathogen treatment and as an alternative to the use of chemicals and antibiotics.
The leaves have antioxidant as well as anticlastogenic (preventing breakage of chromosomes) properties.
Research suggests that moderate consumption of the seed kernel may be useful in the treatment of men with sexual dysfunctions, primarily from premature ejaculation.


Constituents

Pigments (lutein, lutein expoxide, zeaxanthin, violaxanthin, violeoxanthin), flavonoids (quercetin, kamferol), cartenoids, tannins (punicalin, punicalagin), saponinglycosides, cardiac (digitalis), glycosides, phenolsbeta carotene, brevifolin carboxylic acid, glucose, chebulagic acid, corilagin, ellagic acid, gallic acid, pentosans.


Pharmacology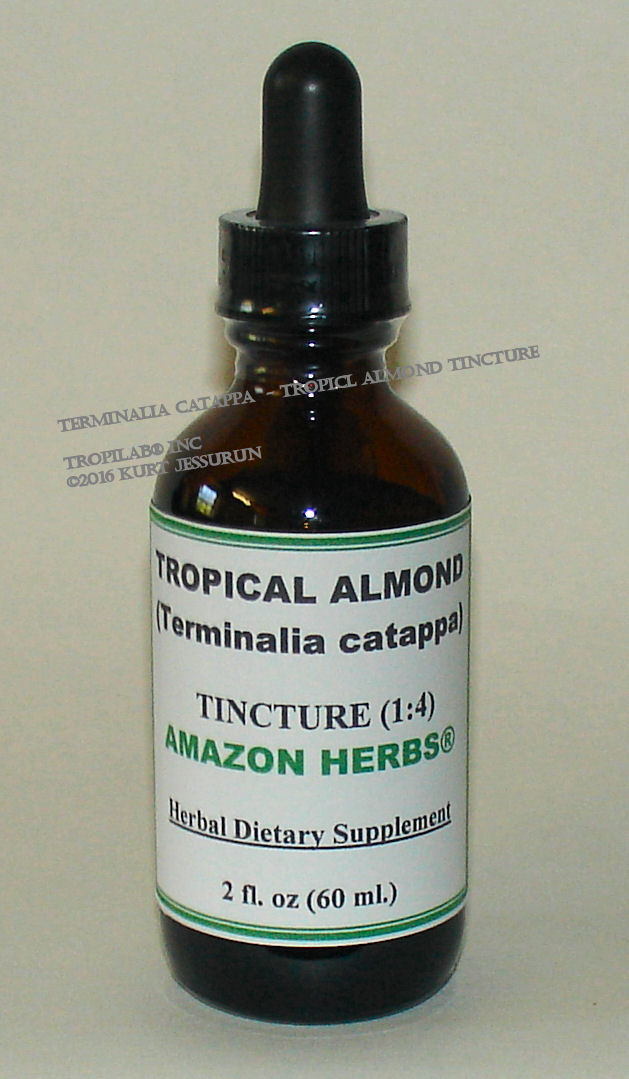 Punicalagin and punicalin (ellagitannins), from the leaves are used to treat dermatitis and hepatitis; both have strong antioxidative activity.
Punicalagin and Punicalin have also anti-hepatotoxic activity.
The free radical scavenging and antihepatotoxic activity from Terminalia catappa was studied. Treatment with T. catappa water extracts showed antihepatotoxic activity against CCl4-induced toxicity in the rats liver that was tested. Terminalia catappa possesses good antihepatotoxic activity and superoxide radical scavenger activity.
The ethanol extract of the leaves of Terminalia catappa L. (Combretaceae) has been found to inhibit osmotically- induced hemolysis of human erythrocytes in a dose-dependent manner. It also prolonged the clotting time of uncoagulated blood. A 1.0 mg/ml solution of the extract was effective in preventing and reversing the sickling of human 'SS' erythrocythes induced by 2% sodium metabisulphite solution. These promising initial results indicate Terminalia catappa leaves may indeed have potential in the management of sickle cell disorders, as claimed previously.

Terminalia catappa leaves have been shown to protect against acute liver injury produced by some hepato-toxicants; however, the active components and mechanisms are not completely clear but may related to protection of liver mitochondria and the scavenging action on free radicals.
Extract of T. catappa and its antioxidant, corilagin are protective against induced liver injury through suppression of oxidative stress and apoptosis.
Several compounds in the leaves kill staphylococci.
Tropical almond can be used as an alternative treatment instead of the prolonged use of prescription drugs for yeast infections such as chronic candiasis related illness.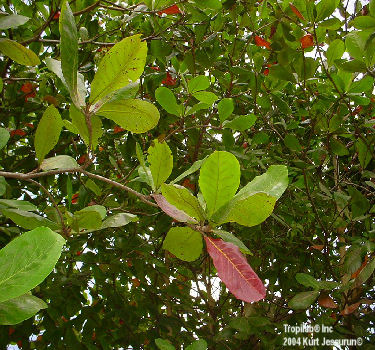 The kernel of the seed has aphrodisiac activity and may be useful in the treatment of certain forms of sexual inadequacies, such as premature ejaculation.

In view of alleged antidiabetic potential, effect of the extracts of Terminalia catappa fruit, on fasting blood sugar levels and serum biochemical analysis were investigated. All the extracts produced a significant antidiabetic activity.


Applications

Antidiabetic, hepato-protective, sickle cell disorders, dysentery and diarrhea.
Externally used, Tropical almond (leave extract) is mostly used for the care of dermatological and rheumatoid afflictions.
Extracts of the (red) fallen leaves are used against liver disorders and acute liver injury (ALI).
Extract of the bark is used externally for its astringent action in the treatment of wounds and ulcerations.
Against yeast infections as an alternative for oral Nystatin (suspension is used to treat infections of the mouth, throat and intestines). Tropical almond does not have the possible side effect of this drug though.


Dosage

Tincture: 1 - 4 ml /day (1 - 4 full droppers daily).
Herbal tea: 1 - 2 cups /day.


For more details on the pharmacology of Tropical almond: go to
"Terminalia catappa plant" page.


Reference

Hepatoprotective effects of chloroform extract from leaf of Terminalia catappa in relation to the inhibition of liver IL-6 expression.
Tang XH, Gao J, Wang YP, Xu LZ, Zhao XN, Xu Q.
School of Medicine, Institute of Materia Medica, Nanjing University, Nanjing 210093, Jiangsu, China.

Modification of mitomycin C-induced clastogenicity by Terminalia catappa L. in vitro and in vivo.
Liu TY, Ho LK, Tsai YC, Chiang SH, Chao TW, Li JH, Chi CW.
Department of Medical Research, Veterans General Hospital-Taipei, Taiwan, ROC

Antioxidant and hepatoprotective activity of punicalagin and punicalin on carbon tetrachloride-induced liver damage in rats.
Lin CC, Hsu YF, Lin TC, Hsu FL, Hsu HY.
Graduate Institute of Natural-Products, Kaohsiung Medical College, Taiwan, Republic of China.

Effects of Terminalia catappa seeds on sexual behaviour and fertility of male rats.
W. D. Ratnasooriya, M. G. Dharmasiri.
Department of Zoology, University of Colombo, Colombo 3, Sri Lanka.

Antidiabetic activity of Terminalia catappa Linn fruits.
A. N. Nagappa, P. A. Thakurdesai, N. Venkat Rao and Jiwan Singh.



The above presentation is for informational and educational purposes only.
It is based on scientific studies (human, animal, or in vitro), clinical experience, or traditional usage.
For many of the conditions discussed, treatment with prescribed (RX) or over - the - counter (OTC) medication is also available.
Consult your doctor, practitioner, and/or pharmacist for any health problem and before using dietary supplements or before making any changes in prescribed medications.