Overview
Phyllanthus (Chanca piedra) is used extensively in Chinese - and Ayurvedic medicine throughout the centuries for liver, kidney and gall bladder function. All parts of this small plant have many medicinal applications and are used as such.
It is used for a wide number of traditional medicinal applications including internal use, for among others, diabetes, frequent menstruation, gonorrhea, gout, jaundice and topical use as a poultice for skin ulcers, sores, swelling, and itchiness.
It is also used against acute Hepatitis B and chronic Hepatitis C.
Phyllanthus is administered in the form of an infusion (medicinal tea), tincture or capsules for the treatment of chronic dysentery.
There is ongoing research about Phyllanthus as a natural medicine for antibacterial and antiviral applications.
The Phyllanthus species, amarus, niruri and urinaria have almost identical working.

For more information about the treatment of gout with Chanca piedra, go to the GOUT PAGE.


Constituents

Phyllanthus primarily contains lignans (e.g., phyllanthine and hypophyllanthine, 5-demethoxyniranthin, urinatetralin, dextrobursehernin, urinaligran), alkaloids (ent-norsecurinine, phyllanthoside) and flavonoids & tepenes (quercetin, quercetol, quercitrin), tannins.
Polyphenolic compounds (phyllanthusin F, methyl brevifolincarboxylate, trimethyl ester dehydrochebulic acid, n-octadecane, beta-sitosterol, ellagic acid, daucosterol, kaempferol, quercetin, gallic acid, rutin).


Pharmacology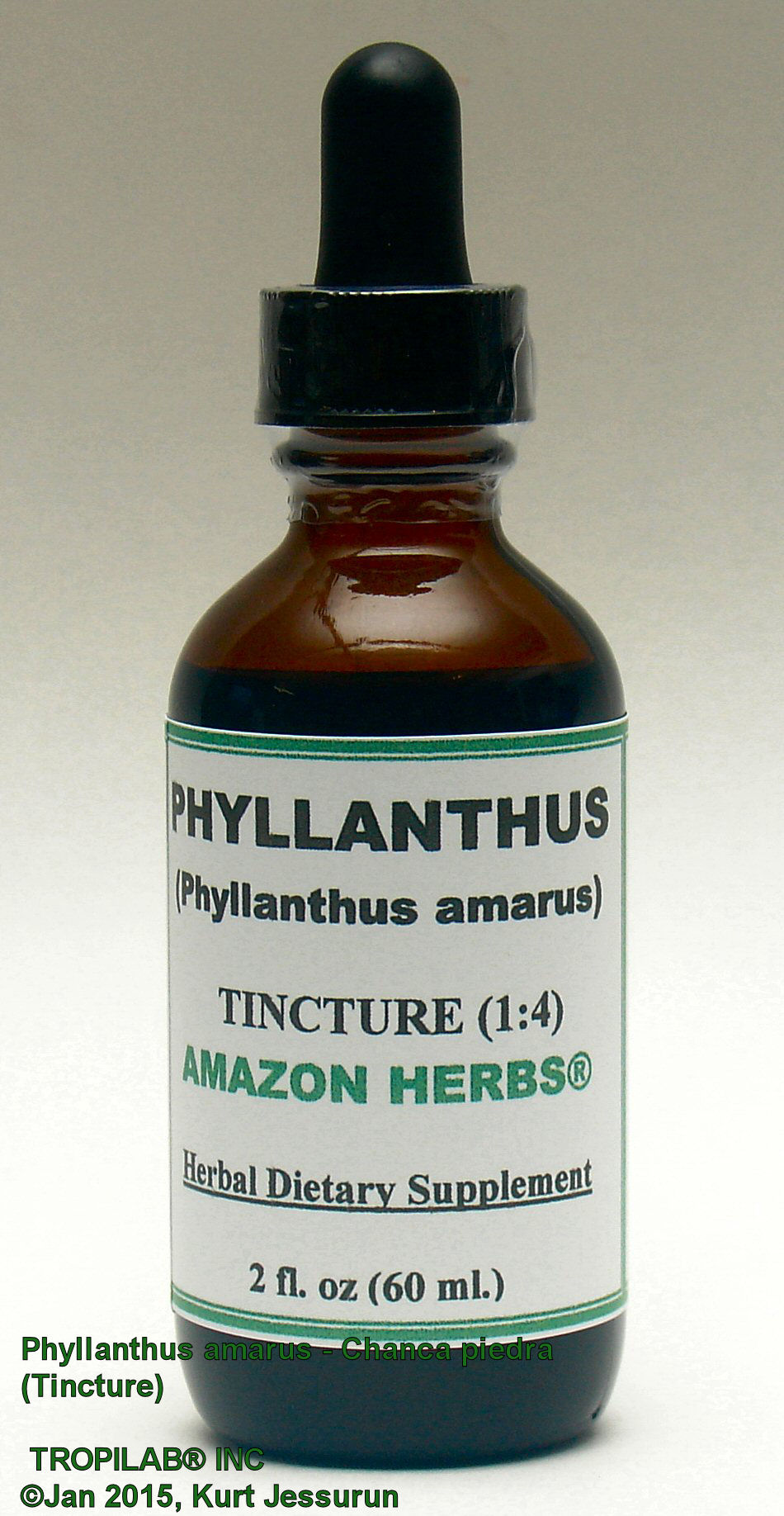 A laboratory study with the administration of an aqueous extract (infusion) of Phyllanthus amarus was found to significantly increase the survival of animals with hepatocellular carcinoma*.
Phyllanthus has been reported in vitro to down-regulate the transcription of hepatitis B virus mRNA. Phyllanthus amarus was reported to inhibit hepatitis B virus polymerase activity, decrease episomal hepatitis B virus (HBV) DNA content, and suppress virus release into culture medium.
Preparations seems to have a remarkable HBV suppressing effect with a serum conversion rate for HBeAg and HBV DNA around 45%, similar to that of IFN-alpha.
The water extract of P. urinaria significantly decreased the number of Lewis lung carcinoma cells in a dose-and time-dependent manner as determined by MTT assay. Result from flow cytometry revealed a dose-dependent increase of dead cells 24 hours after treating Lewis lung carcinoma cells with P. urinaria extract.
The anticancer activity of P. urinaria extract was due to the apoptosis induced in Lewis lung carcinoma cells, which was demonstrated by DNA fragmentation analysis and increased caspase-3 activity.
The apoptosis triggered by P. urinaria extract in Lewis lung carcinoma cells was associated with the down-regulation of Bcl-2 gene expression.

* hepatocellular carcinoma* (HCC or hepatoma*): cancer of the liver.

Liver protection (antihepatotoxic activity)

Phyllanthus prevents liver damage; it also reduces increased liver enzymes, following occurred damage such as from alcohol and drugs, which can lead to cirrhosis (scarring of the liver).
Used in liver detoxification (detox) programs; it helps removing accumulated toxins in the liver.
Phyllanthus has a positive effect on antiviral activity and the liver biochemistry in chronic HBV (Hepatitis B Virus) infection.


Dosage

Tincture: 1 - 4 ml / daily.
Infusion (herbal tea): 1 - 2 cups / day (1 - 2 teaspoons / cup).

Infusions (teas):
Use hot, not boiling water. Phyllanthus should be steeped for 1 – 6 minutes.


Hepatitis (chronic viral hepatitis B virus)

Phyllanthus inhibits proliferation of the hepatitis B virus (HBV) by inhibiting replication of the virus' genetic material; it blocks DNA polymerase, the enzyme needed for the hepatitis B and C virus to reproduce.
Phyllanthus may have a positive effect on antiviral activity and liver biochemistry in chronic HBV infection.
On the other hand: conventional treatment with interferon-alpha** (IntronA®, Roferon-A®) is expensive and may have serious side effects.

** Interferon is used as a treatment for some types of cancer. These include cancer of the kidney, malignant melanoma, multiple myeloma, carcinoid tumous and some types of lymphoma and leukaemia. Interferon is also used to treat diseases other than cancer.


Gall - and Kidney stones

Phyllanthus eliminates gall bladder - and kidney stones due to its antispasmodic- and smooth muscle relaxant activity.
This may be caused by the alkaloid, phyllanthoside.
It also may interfere with the early stages of stone formation and may be an alternative form of treatment and/or prevention of urolithiasis.
Urolithiasis is the process of forming stones in the kidney, bladder, and/or urethra (urinary tract).
Since Phyllanthus flushes out the excess uric acid it is as such also effective in the treatment of gout.
In addition it also treats bladder - and urinary tract infections, due to its antibacterial and antiviral properties.
Chanca piedra increases bile acid secretion in the gallbladder.
It is also used as a powerful detoxifier (detox) for the kidneys and for weight loss.


Diabetes

Lowers blood glucose in diabetic patients.


Cholesterol & triglyceride

Phyllanthus lowers cholesterol & triglyceride levels in the blood.


Hypertension

Phyllanthus lowers systolic blood pressure, increased urine volume, increased urine - and sodium excretion.


Sedative

The pain blockers have been identified as gallic acid ethyl ester and the steroidal compounds beta-sitosterol and stigmasterol.
May be very helpful in the treatment of chronic neuropathic pain.
The working is based on the decreasing of the inflammation.


Precaution & contraindications

Phyllanthus has no known side effects.
Caution should be exercised when combined with prescription- and OTC drugs.

For more information on Phyllanthus amarus, go to the "Phyllanthus amarus" plant page.


Reference

Al-Kindi. Circa 850. The medical forumlary or aqrabadhin of Al-Kindi: translated with a study of its materia medica by Martin Levey 1966. Univ. of Wisconsin Press. Madison, WI.
Amadeo, A.J. 1888. The botany and vegetable materia medica of the island of Puerto Rico. Pharmaceut. J. Apr. 28, 1888, p. 906.
Antarkar, D.S., A.B. Vaidya, J.C. Doshi, A.V. Athavale, K.S. Vinchoo, M.R. Natekar, P.S. Tathed, V. Ramesh and N. Kale. 1980. A double-blind clinical trial of Arogya-Warhani—an Ayuvedic drug—in acute viral hepatitis. Indian J. Med. Res. 72:588-593.
Beasley, R.P., L-Y. Hwang, L-C. Lin, C-S. Chien. 1981. Hepatocellular carcinoma and hepatitis B virus. Lancet ii:1129-1133.
Blumberg, B.S., B.J.S. Gerstley, D.A. Hungerford, W.T. London and A.I. Sutnick. 1967. A serum antigen (Australia antigen) in Down's syndrome, leukemia and hepatitis. Ann. Internal Med. 66:924-931.
Blumberg, B.S. 1977. Australia antigen and the biology of hepatitis B. Science 197:17-25.
Bunyapraphatsara, N. 1987. Personal communication: uses of Phyllanthus species in traditional Thai medicine. Translated from nine books in Thai. Medicinal Plant Information Center, Mahidol Univ., Bangkok.
Cruz, G.L. 1965. Livro verde das plantas medicinals e industriais do Brasil. Velloso S. A., Belo Horizonte.
Dodd, R.Y. and N. North. 1987. Increased risk for lethal forms of liver disease among HBsAg-positive blood donors in the United States. J. Virol. Methods 17:81-94.
Freise, F.W. 1934. Plantas medicinales Brasileiras. Instit. Agron. do Estado, São Paulo. p. 442-443.
Ghendon, Y. 1987. Perinatal transmission of hepatitis B virus in high incidence countries. J. Virol. Methods 17:69-79.
Gooding, E.G.B., et al. 1965. Flora of Barbados. Ministry of Overseas Development Barbados.
His Majesty's Government of Nepal, Ministry of Forest and Soil Conservation, Dept. of Medicinal Plants. 1982. Medicinal plants of Nepal. Third edition. His Majesty's Government Press, Kathmandu.
His Majesty's Government of Nepal, Ministry of Forest and Soil Conservation, Dept. of Medicinal Plants. 1984. Medicinal plants of Nepal, (Supplement volume). His Majesty's Government Press, Kathmandu.
Holm-Nielsen, L.B. 1979. Comments on the distribution and evolution of the genus Phyllanthus (Euphorbiaceae), p. 277-290. In: K. Larsen and L.B. Holm-Nielsen (eds.). Tropical botany. Academic Press, New York.
Kangsu Medical Institute. 1975. Encyclopedia of Chinese Medicine. 3 vols. Shanghai Publisher of Science and Technology Chinese; English translations by M.P. Wong, Fox Chase Cancer Center, Philadelphia, PA.
Kirtikar, K.P, and B.D. Basu. 1975. Indian medicinal plants. 2nd ed. 4 vols. Jayyed Press, New Delhi.
MacRae, W.D., J.B. Hudson and G.H.N. Towers. 1988. Studies on the pharmacological activity of Amazonian Euphorbiaceae. J. Ethnopharmacol. 22:143-172.
Morton, J.F. 1981. Atlas of medicinal plants of Middle America: Bahamas to Yucatan Charles C. Thomas Publ., Springfield, IL



The above presentation is for informational and educational purposes only.
It is based on scientific studies (human, animal, or in vitro), clinical experience, or traditional usage.
For many of the conditions discussed, treatment with prescribed (RX) or over - the - counter (OTC) medication is also available.
Consult your doctor, practitioner, and/or pharmacist for any health problem and before using dietary supplements or before making any changes in prescribed medications.



For the right freight rate, please visit our Webstore page!