PHYLLANTHUS AMARUS & NIRURI - BLACK CATNIP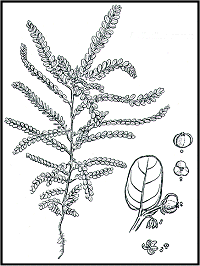 Common name
Child pick-a-back, bhuiamla, gulf leafflower, black catnip, meniran, chanca piedra, shatterstone, stone breaker, quebra pedra, bahupatra, gale of wind, carry me seed, hsieh hsia chu.
Family
Euphorbiaceae (Spurge family).



Overview
Black catnip is a common annual weed in Suriname from the genus Phyllanthus that contains more than 700 species.
The plant grows up to no more than 1½ feet tall and has small yellow flowers.
They have small leaves and very small (2mm) fruits that burst open and the seeds are hurled away.
When the plants are picked, the feathery leaves fold in, completely closing themselves.

Black catnip does many things and promotes optimal kidney, liver and gall bladder function.
This herb has antispasmodic - and liver protecting activity; it detoxifies and protect the liver and kidneys. In the kidneys, it reduces uric acid and increases urination.
Phyllantus Amarus, -Niruri and -Urinaria also have anti-viral activity against chronic - and acute hepatitis-B.
Phyllanthus species are extensively used in Ayurvedic medicine.
Phyllanthus amarus, -niruri and closely related species; such as Phyllanthus urinaria, -debilis and -fraternus, seem to contain activity against the endogenous DNAp of hepadna - viruses.
They are all employed in the treatment against kidney - and gallstones as well, other kidney and liver related problems.
They are anti-hepatotoxic (liver protecting), antibacterial and hypoglycemic.
Other applications are against inflammation of the appendix, diabetes and for prostate problems.
An interesting aspect is the use of this plant for weight loss (slimming down).

For more details on the phytochemistry and pharmacology of this cleansing herb, go to "MEDICINE FROM NATURE" page.


Pharmacology
Primorily lignans (phyllanthine and hypophyllanthine), alkaloids and
bio - flavonoids (quercetin, catechin).
It is not exactly known which one of the ingredients has the antiviral effect on the liver.

Suriname's Traditional Medicine
A bitter extract is used against kidney - and bladder disorders, uterus complaints, constipation, anorexia, dyspepsia and jaundice.

For more information go to the APPLICATION AND DOSAGE page.
Visit also our CHOLESTEROL -, DIABETES - , GOUT- , HYPERTENSION - ,
KIDNEY DETOXIFICATION - , LIVER DETOXIFICATION - and TINCTURE pages.


Hardiness
USDA zone 8 - 11. In summer zone: 6 - 11.
Propagation
Seeds.
Culture
Full sun / light shade, moist soil / high in calcium, pH of soil at about 8.0.