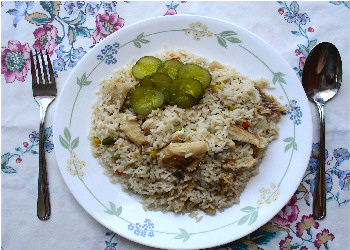 Ingredients:


5 oz. rice
2½ oz. shredded codfish
1 medium sized onion, sliced
2 medium sized tomatoes, diced
12 tablespoons oil
2 stock cubes, crushed
2 tablespoons seasoned soy sauce
dash of black - or white pepper
1 - 2 cloves of garlic, crushed
¾ liters coconut milk


Cooking instructions: for 4 (four) people

Heat oil; add the sliced onions.
Also add the garlic, tomatoes, black - or white pepper and the stock cubes.
Then add the soy sauce, the shredded codfish and stir.
Let simmer; the codfish should be light brown.
Add the codfish and the coconut milk to the rice and stir.
Cover the pot or rice cooker and cook.
Serve with sliced cucumber and / or tomato.