Overview

Fedegoso (Coffee Senna) has been used in traditional medicine for many years and has many health benefits.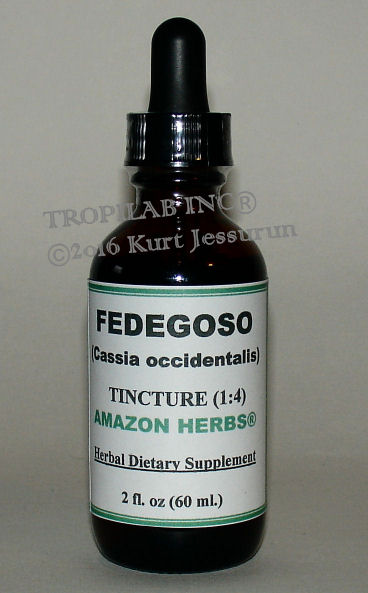 It is a good natural remedy for bacterial and fungal infections and is able to boost the immune function at the same time.
As a liver tonic, it's beneficial action and use in various liver conditions such as anemia, hepatitis and liver damage are well known.
It could possible also help keeping damaged liver cells from turning into cancerous ones, as is often seen with chronic Hepatitis B - and C infections.


Constituents

Aloe - emodin, anthraquinones, antrones, aurantiobtusin, cassiolin, chrysobtusin, chrysophanol, essential oils, emodin, lignoceric, linoleic acid, mannnitol, myricylalcool, nor - rubrofusarin, obtusifolin, obtusin, oleic acid, palmitic acid, sitosterol, tannins and xanthorin.


Pharmacology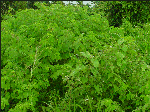 The ethanolic extract of C. occidentalis seeds has anti-inflammatory effects in both acute and sub-acute inflammatory conditions.
The leaves are used in the treatment of gonorrhea, fevers, urinary tract infection (UTI) and edema.
The extracts exhibited significant anti-diabetic activity in normal and alloxan-induced diabetic rats. The rats also showed improvement in parameters like body weight and lipid profiles and also, histopathologic studies showed regeneration of ß-cells from pancreas and so it might be of value in the treatment of diabetes.

A study in cytotoxicity against human cancer cell lines & antibacterial activity, shows that whole plant C. occidentalis possess both in vitro cytotoxicity and antibacterial activity. The plant can be further explored for its potential therapeutic uses.

The whole plant is purgative, tonic, and febrifuge, and considered a cure for sore eyes.


Applications

Internal bacterial - and fungal infections, liver disorders, (detoxification, hepatitis cirrhosis, etc.), intestinal parasites and worms.
It also boost the immune system tremendously. Acne, Anemia, Headache, Herpes, Malaria, Ringworm.
The leaves are also used in the Amazon rainforest against gonorrhea, fevers, urinary tract disorders, edema, and menstrual problems.


Dosage

Tincture: 1 ml (30 drops) 2 - 4 times daily in water.


Side effects and / or interactions

May potentiate the effect of antihypertensive drugs.
May interfere with the metabolism of certain drugs in the liver.
Not recommended during pregnancy and breast feeding.
Patients taking drugs for lowering high blood pressure should consult their physician.


For more information on Fedegoso, go to the "MEDICINE FROM NATURE" page.


Reference

Protective effect of Cassia occidentalis extract on chemical-induced chromosomal aberrations in mice.
Sharma N, Trikha P, Athar M, Raisuddin S.
Department of Medical Elementology & Toxicology, Jamia Hamdard (Hamdard University), New Delhi, India.

In-vivo antimalarial activity of Cassia occidentalis, Morinda morindoides and Phyllanthus niruri.
Tona L, Mesia K, Ngimbi NP, Chrimwami B, Okond'ahoka, Cimanga K, de Bruyne T, Apers S, Hermans N, Totte J, Pieters L, Vlietinck AJ.
Faculty of Pharmacy, University of Kinshasa, B.P. 212, Kinshasa XI, Democratic Republic of Congo.

Biochemical modes of action of Cassia occidentalis and Cardiospermum halicacabum in inflammation.
Sadique, J., et al.
J. Ethnopharmacol. 1987; 19(2): 201–12.

Pharmacological screening of some West Indian medicinal plants.
Feng, P., et al.
J. Pharm. Pharmacol. 1962; 14: 556–61.

Anti-inflammatory activity of Cassia occidentalis seeds in albino rats.
Syed Ilias Basha, SC Somashekara, D Govindadas, Dinesh C.M. Naidu, G Devasankaraiah, Rajkishore Mohato, K.C. Haritha Yadav.
Department of Pharmacology, SVS Medical College, Mahabubnagar, Andhra Pradesh, India.

Effect of ethanolic extract of Cassia occidentalis Linn. for the management of alloxan-induced diabetic rats.
Verma L, Singour PK, Chaurasiya PK, Rajak H, Pawar RS, Patil UK.
Pharmacognosy and Phytochemistry Division, VNS Institute of Pharmacy, Neelbud, Bhopal, Madhya Pradesh.



The above presentation is for informational and educational purposes only.
It is based on scientific studies (human, animal, or in vitro), clinical experience, or traditional usage.
For many of the conditions discussed, treatment with prescribed (RX) or over - the - counter medication (OTC) is also available.
Consult your doctor, practitioner, and/or pharmacist for any health problem and before using dietary supplements or before making any changes in prescribed medications.