Overview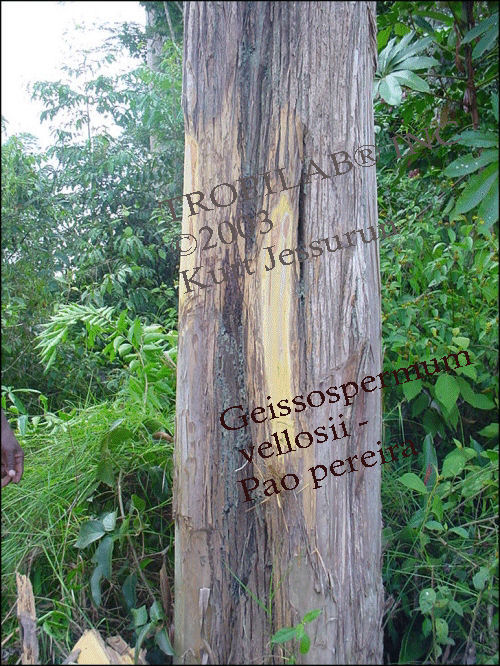 Pao Pereira is an indigenous tree from the Amazon rainforest and traditionally used as a febrifuge (lowers fever) by the indians of South America.
Further and most importantly, it is used as an excellent alternative therapy for many difficult-to-handle cancers; alone or in combination with known cancer drugs. The extract from the bitter inner-bark, seems to effectively suppress the proliferation of HIV, herpes viruses, cancer and leukemia cells.
It is effective in preventing among other uses, prostate cancer and/or reducing PSA levels*.
Used in the inhibiting and prophylaxis of malaria (Plasmodium falciparum**) by boosting the immune system. It can also be useful in combating AIDS, Leishmaniasis cutaneous, and herpes.
The alkaloids from Pao Pereira (family Apocynaceae), have the same toxic effect against certain cancer cells; however with no such effect on normal ones.

Pao Pereira also inhibits replication of the Herpes simplex virus genome.
It crosses the blood-brain barrier*** easily and attaches itself to potential brain cancer cells.
Brain cancer, glioblastoma the most common and aggressive brain tumor and is very difficult to stop.
The alkaloids carry a risk of toxicity only in cases of overdose and have no known side effects.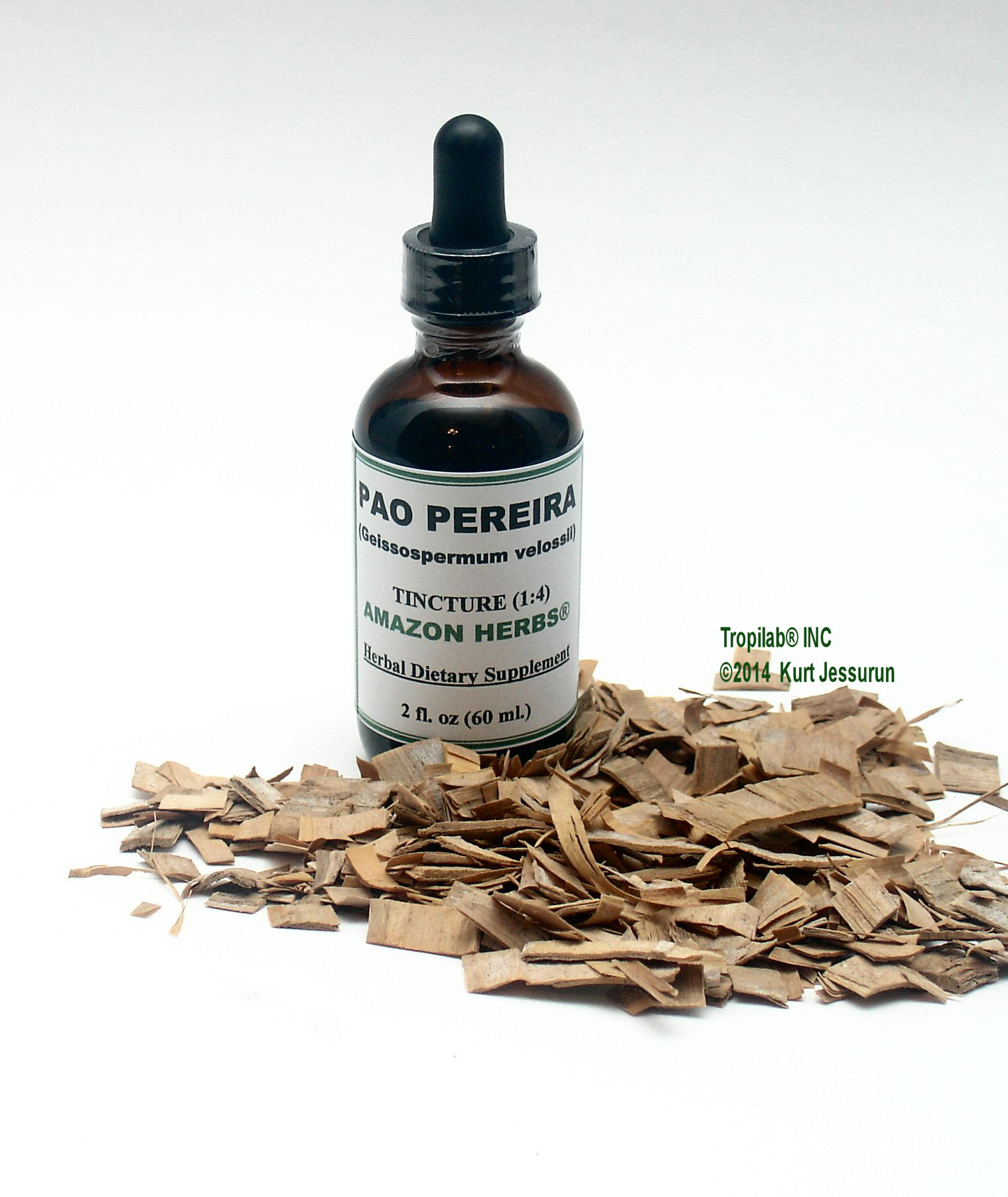 The bark tincture can be applied to all types of disease involving immunodeficiency (prevents the body from fighting infections and diseases) and can be used as a synergistic adjunct therapy (combined power by working together); alongside chemo- and radiotherapy in the many forms of cancer.


Constituents

Indole and beta-carboline alkaloids: geissospermine, flavopereirine, dihydroflavopereirine, vellosine, geissoschizoline (and derivatives), geissoschizoline N4-oxide, 1,2-dehydrogeissoschizoline, apogeissoschizine and pausperadine.


Pharmacology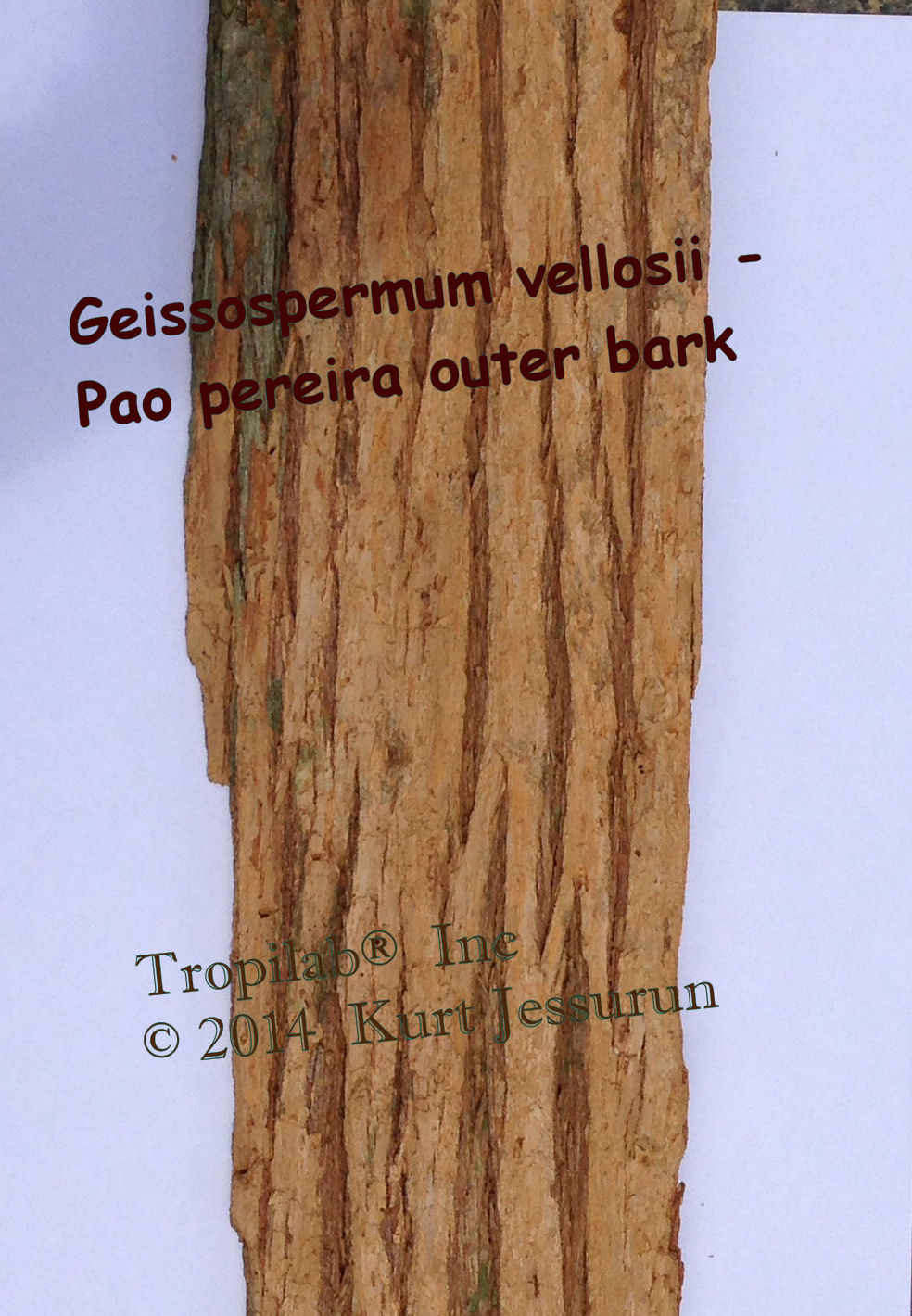 Alkaloids from the inner bark of Geissospermum vellosii (synonym: Geissospermun laeve) possess a variety of therapeutic properties including antimalarial activities, activity as a natural sexual stimulant and inhibition of the proliferation of HIV and herpes viruses.
Extract from this bark can be used to handle intermittent fevers. Geissospermum species are believed to purify the blood and the liver. These species are said also to be used for the prophylaxis of malaria.

Bark extracts of Geissospermum vellosii (rich in alpha-carboline alkaloids), have significant anticancer activities and in certain preclinical models they suppress prostate cancer cells.
Flavopereirine**** exerts a selective inhibition action on viral HIV infection, particularly in patients infected by HIV-1; providing a method for the treatment of Human Immunodeficiency Virus.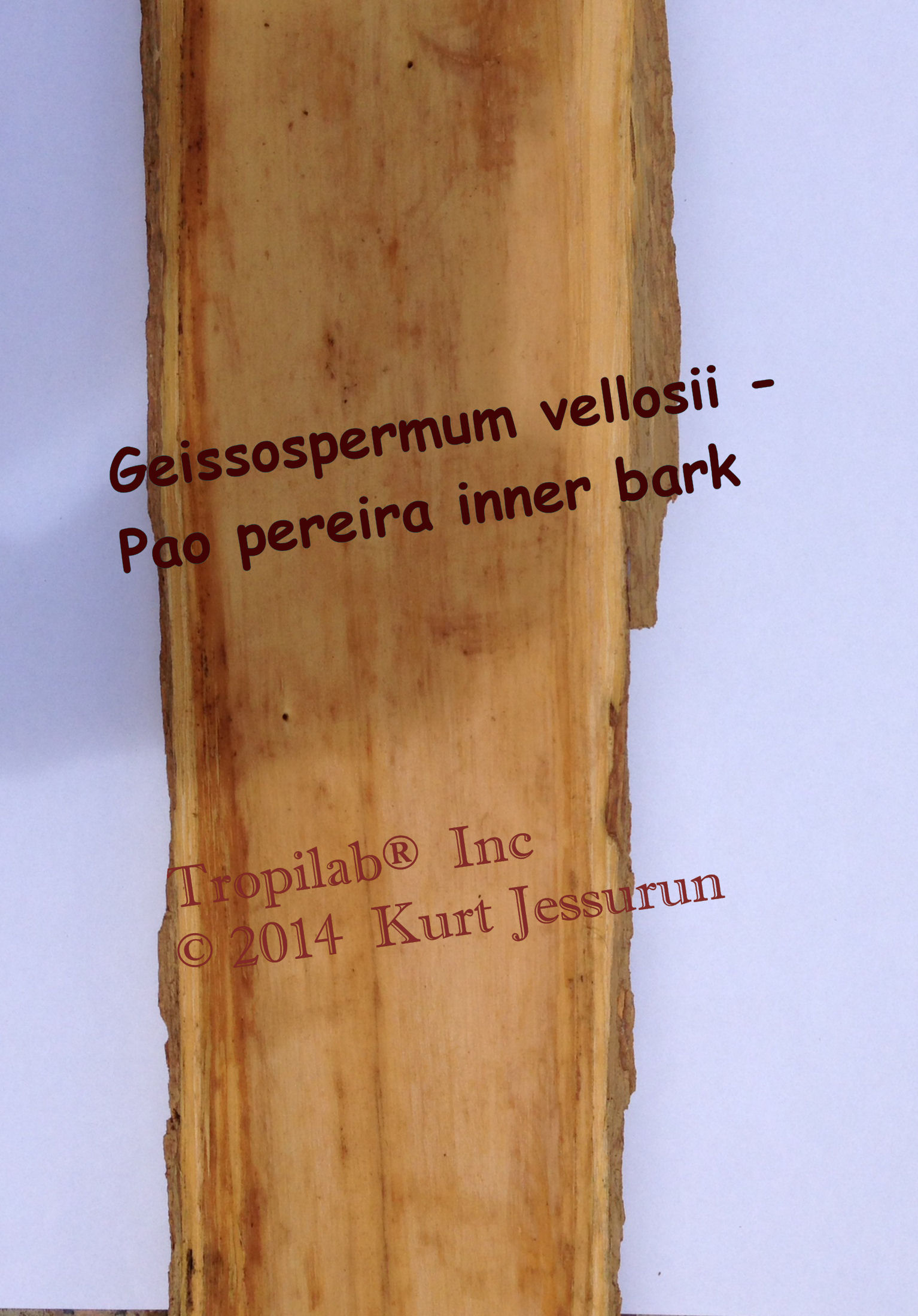 It shows also promise for treating low-grade prostate cancer and preventing the onset of metastatic disease***** and/or reducing the doubling time of PSA levels in men with positive biopsies.
It shows relatively low Gleason scores and morphologies characteristic of non-invasive, slow-progressing prostate cancer.
Applied to a line of cultured cancer cells, the extract significantly and fast suppressed cell growth; it caused cancer cells to die. It also caused a significant decrease in overall tumor size. Research also suggested that, since Pao pereira has tumor-suppressing activity without toxicity, it can be used to preclude cancer; not just only as a therapy for it.
The greatest effect on tumor growth seems to occur at lower doses of the Pao Pereira.

The lack of an effective therapy is a major problem with the treatment of pancreatic cancer; this is one of the most lethal types of cancer.
An extract of Pao Pereira (Pao), was investigated for its anti-pancreatic cancer effect. Alone or in combination with the first-line chemotherapeutic drug Gemcitabine, brand name Gemzar® (Gem), the current standard of care for advanced pancreatic cancer. While Gem did not provide significant inhibition, Pao pereira therapy significantly suppressed tumor growth in mice by 70-72%.
Combined Pao and Gem treatment further enhanced the tumor inhibitory effect compared to Gemcitabine alone and markedly reduced metastatic lesions in the peritoneum (membrane lining the abdominal cavity and covering abdominal organs).

Combining Pao Pereira with chemotherapy drugs such as Carboplatin -trade name Paraplatin®- also may have synergy of action on ovarian cancer cells.
Pao pereira alone suppressed tumor growth by 79% and decreased volume of ascites by 55%. When combined with carboplatin (Paraplatin®), tumor inhibition reached 97% and ascites (abdominal dropsy) was completely eradicated.
Pao Pereira has antinociceptive effects (reduced sensivity to pain); compared with indomethacin, a nonsteroidal anti-inflammatory drug (NSAID). It is approximately twice as effective in causing antinociception (blocking detection of a painful or injurious stimulus).


For more in depth medicinal information, visit also our "PAO PEREIRA DATABASE" page.


Dosage

Cancers (used alone or in synergy with chemotherapy, radiation therapy and chemotherapeutic drugs).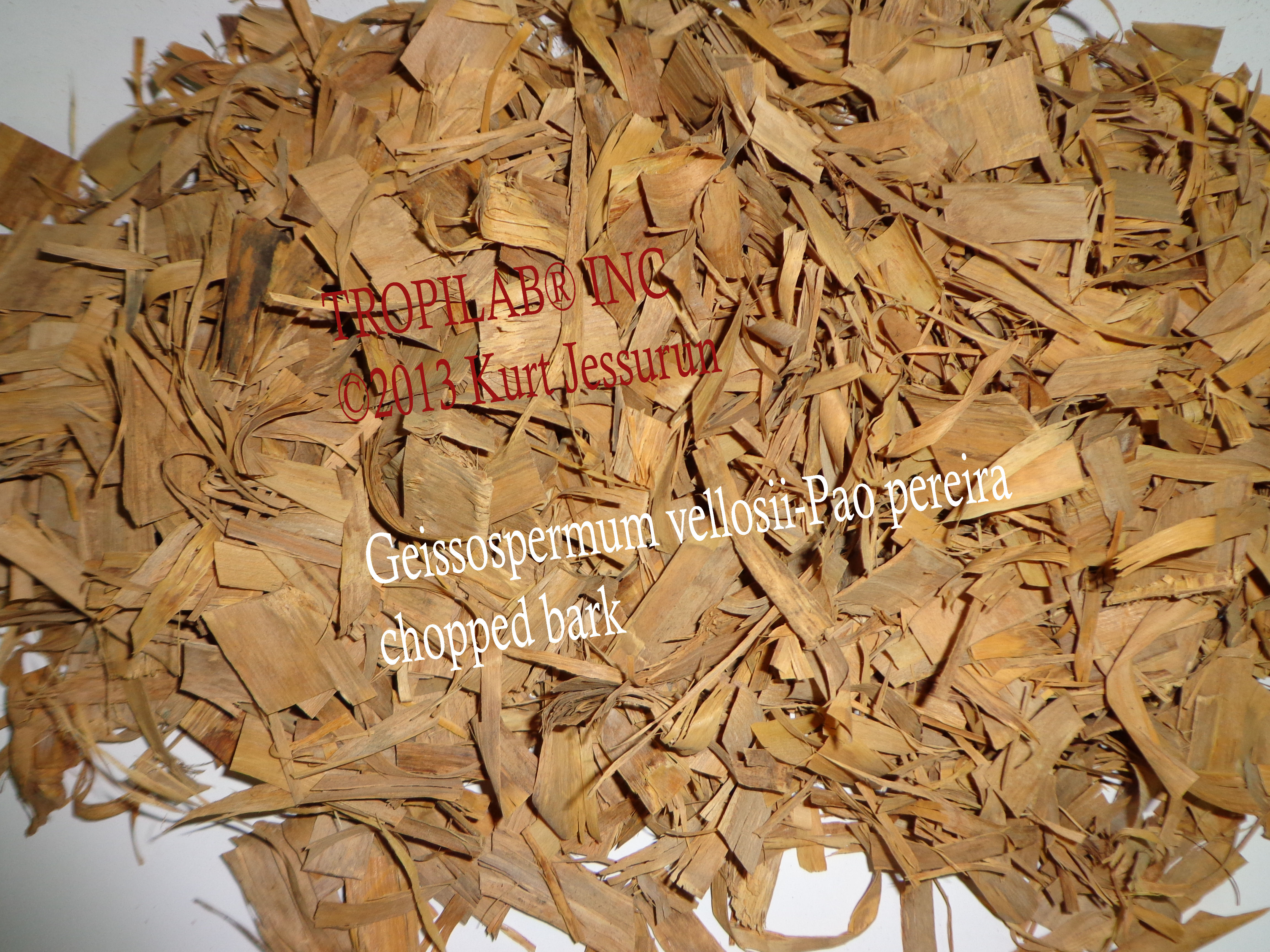 Tincture: 2 - 8 ml/day (2 - 8 full droppers per day)
Infusion (herbal tea): 3 - 5 cups/day

Viral diseases (AIDS, Hepatitis C, Herpes)
Tincture: 2 - 8 ml/day
Infusion (herbal tea): 3 - 5 cups/day

Many customers use Pao pereira together with Acerola for Strong Immune Support.


Side effects and/or interactions

No known side effects; pregnant or lactating women or those taking prescription medications, should consult their doctor.
Pao pereira may interact with anticancer – and anti-malarial drugs.


*Prostate-specific antigen (PSA), a protein produced by cells of the prostate gland. The PSA test measures the level of PSA in the blood.
The PSA test for screening has limitations and is still controversial.

**Plasmodium falciparum is a parasite, one of the species of Plasmodium that cause malaria in humans. Malaria caused by this species is the most dangerous form of malaria.

***Blood-brain barrier: blood vessels vascularizing the central nervous system (CNS) have special properties, named the blood–brain barrier, allowing these vessels to strictly regulate movement of ions, molecules, and cells between blood and the brain.

****Flavopereirine is a small molecule that is able to cross the blood brain barrier, making it useful in the treatment of brain tumors and also effective against a wide range of cancers.

*****Metastatic disease: spread of cancer from one part of the body to another.


References

Indole and -Carboline Alkaloids from Geissospermum sericeum-
Jonathan C P Steele, Nigel C Veitch, Geoffrey C Kite, Monique S J Simmonds*, and David C Warhurst
Jodrell Laboratory, Royal Botanic Gardens, Kew, Richmond, Surrey, TW9 3DS, U.K., and Department of Infectious and Tropical Diseases, London School of Hygiene and Tropical Medicine, London, U.K.

A search for natural bioactive compounds in Bolivia through a multidisciplinary approach. Part I. Evaluation of the antimalarial activity of plants used by the Chacobo Indians-
Instituto Boliviano de Biologia de Altura, La Paz, Bolivia.

Evaluation of French Guiana traditional antimalarial remedies-
Bertani S, Bourdy G, Landau I, Robinson JC, Esterre P, Deharo E.
Laboratoire de Parasitologie Comparee et Modeles Experimentaux, Museum National d'Histoire Naturelle, Paris, France.

Evidence role of 5-HT(1A) receptor on antinociceptive action from Geissospermum vellosii-
Werner JA, Oliveira SM, Martins DF, Mazzardo L, Dias Jde F, Lordello AL, Miguel OG, Royes LF, Ferreira J, Santos AR.
Programa de Pós-graduação em Farmacologia, Centro de Ciências da Saúde, Universidade Federal de Santa Maria, Santa Maria, Brazil.
J Soc Integr Oncol, 2009 Spring; 7(2):59-65.

Beta-carboline alkaloid-enriched extract from the amazonian rain forest tree pao pereira suppresses prostate cancer cells-
Bemis DL, Capodice JL, Desai M, Katz AE, Buttyan R,
Department of Urology, College of Physicians and Surgeons, Columbia University Medical Center, New York, NY, USA.
dbemis@licr.org.

Inhibition of pancreatic cancer and potentiation of gemcitabine effects by the extract of Pao Pereira.
Yu J, Drisko J, Chen Q.
Department of Pharmacology, Toxicology and Therapeutics, University of Kansas Medical Center, Kansas City, KS 66160, USA.

The plant extract of Pao pereira potentiates carboplatin effects against ovarian cancer.
Yu J, Chen Q.
Pharm Biol. 2014 Jan;52(1):36-43. doi: 10.3109/13880209.2013.808232. Epub 2013 Sep 13.


The above presentation is for informational and educational purposes only.
It is based on scientific studies (human, animal, or in vitro), clinical experience, or traditional usage.
For many of the conditions discussed, treatment with prescribed (RX) or over - the - counter (OTC) medication is also available.
Consult your doctor, practitioner, and/or pharmacist for any health problem and before using dietary supplements or before making any changes in prescribed medications.