RHIZOMES AND BULBS



ABOUT OUR RHIZOMES AND BULBS
All our bulbs, rhizomes and seeds are wild harvested in the Amazon Rainforest of Suriname and 100% organic. This means that they are free of contaminants, such as synthetic fertilizers, pesticides, herbicides and preservatives, GMO'S (genetically modified organisms) and animal products.
They are thoroughly inspected on quality before being used in the manufacturing process.
TROPILAB® uses GACP guidelines (Good Agricultural and Collection Practices) as proposed by ©EMEA and WHO.

Gingers and Heliconias from Suriname are probably the most beautiful plants in the entire world!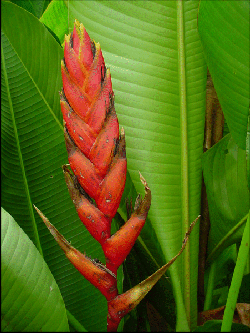 There are about 200 to 250 species of Heliconias and at least as many forms or cultivars.
The Gingers are a large family of approximately 1,100 species; they are native to only South - and Central America and a few islands of the South Pacific.
Many have medicinal properties and are applied as such.
Although tropical, they can be grown in the sub-tropics outdoors and in the cooler zones, indoors or in the glass house. Some of the gingers and heliconias are, to some degree, cold hardy.
They are also used as cut flowers.
Gingers and Heliconias propagate through rhizomes and seeds. The seeds are often difficult to germinate and most of the time the plants produce only a very small amount of these.
Pollination of red, yellow, orange and pink heliconias are done by hummingbirds.
Bats pollinate the green heliconias.
Most species are self-compatible.
The aroids propagate through bulbs.
There are special precautions to be taken when planting the rhizomes and bulbs.
Rhizomes and bulbs can weight from one (1) oz up to thirty - two (32) oz.
All of the rhizomes and bulbs we ship are disinfected and, as with all our seeds and medicinal plants, accompanied by a phyto-sanitary* model health certificate issued by the Plant Protection and Quarantine Division of Suriname.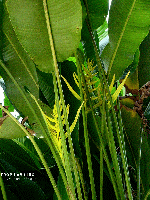 If you have specific questions about the database of the rhizomes, and bulbs from aroids, please do not hesitate to send us an e-mail.

To check-out the growing conditions concerning minimum temperature in your area, go to the USDA - and the AHS website.

To search MEDLINE citations and additional life science jpurnals, go to the PubMed website of NLM (NATIONAL LIBRARY of Medicine).

For hardiness zones of Europe, Canada and Australia go to these links.

For the right freight rate, please visit our Webstore page!

NOTE: minimum order $10.00, shipping & handling excluded, when ordering online.